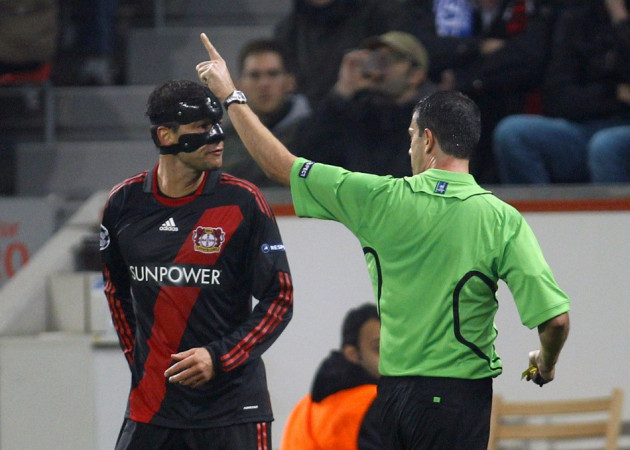 Michael Ballack has questioned his former Chelsea team-mates' mental strength after the Blues lost for the fourth time in seven matches on Wednesday.
A Ballack-inspired Bayer Leverkusen came from a goal down to beat Chelsea 2-1 on Wednesday evening to leave Andre Villas-Boas' side in danger of exiting the Champions League at the group stage for the first time in the Roman Abramovich era.
The German, who spent four years at Chelsea, believes the formidable mental qualities that helped them to win six trophies during that period has all but evaporated.
"We knew before the game they were in a difficult moment but it's only when you play against a team on the pitch that you see what is really happening," Ballack said.
"We could feel it on the pitch every minute, especially at the beginning of the match, that they were not as strong as they normally are.
"Even when they went 1-0 up we could sense that, that they didn't have seen the ruthless dealings of Chelsea owner Roman Abramovich."
Wednesday's stoppage-time defeat neatly encapsulated the sense of underachievement currently enveloping Stamford Bridge.
Seven points from their opening three games propelled Chelsea into pole position in Group E at the start of the season but, having relinquished a further seven from winning positions in their subsequent matches, the Blues are in danger of missing out altogether when Valencia travel to west London on 6 December for the final group game.
But Chelsea's Premier League form is even more worrying. Three of their past four games have ended in defeat and a tricky run of matches in the next three weeks could define Villas-Boas' first season in charge.
The sequence starts on Saturday when Wolves visit Stamford Bridge, with a Carling Cup quarter-final against Liverpool three days later. Anything less than victories for Chelsea in both those games would be worrying for the Chelsea manager.
And then there is Newcastle away the following weekend, followed by the home tie with Valencia before league leaders Manchester City visit the capital on 12 December.
"With every defeat you can see they are losing confidence," Ballack added. "You have to get back to your roots, to square one, but with the ambitions they have of course it is harder and they are not matching them."
Ballack also extended his sympathies toward the under-pressure Chelsea manager.
"I played four years for Chelsea and I know how quickly it can go," said Ballack. "I had a few managers in that short time. I know it is always difficult for the coach. But that is not just about the coach, it is about the players too. They have to get out of this situation."