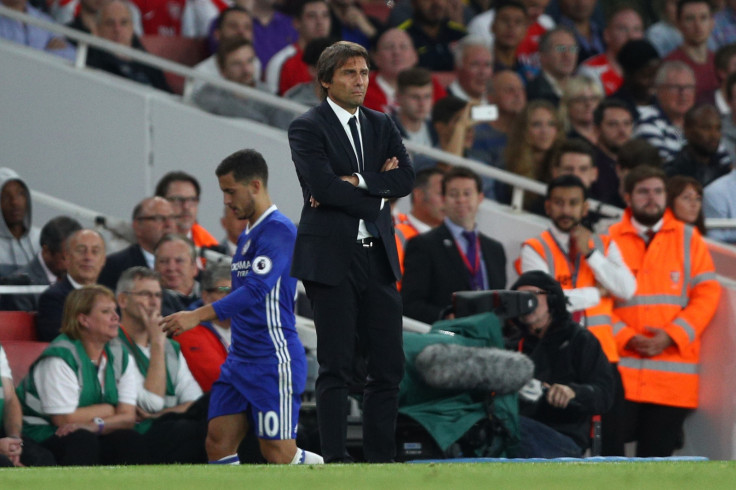 Chelsea manager Antonio Conte has admitted the Blues' one-sided loss to Arsenal will give him sleepless nights. The 47-year-old Italian was frustrated with his side's sub-par performance in their 3-0 defeat to the Gunners on Saturday (24 September) – but Conte has pledged to go without sleep in a bid to get the team back on track.
The Stamford Bridge club suffered another confidence-sapping loss to Liverpool in their previous Premier League game. Conte, though, has promised to work until he can find a solution to the club's current troubles.
"I don't sleep, sure," said Conte, according to the Daily Telegraph. "I don't sleep. This is normal. After this game, this defeat, it's normal for me not to sleep. Not only tonight, but for two nights. When I don't sleep, I reflect. And it's important to reflect.
"I have to find the solution very, very soon because today, I think that we played a very bad game."
Conte refused to blame individuals for Chelsea's humbling at the hands of Arsenal – but admitted the Blues side currently lacks balance. "I don't want to talk about defenders, midfielders or strikers," the Italian explained following Chelsea's latest setback.
"We must improve a lot if we want to stay up [near the top], and not in the middle of the table. I think that when you want to win, you must have a good balance. When you attack and when you defend. I think that this is the right way if you want to win. If you don't, you have up and down, up and down."
Conte insisted hard work and togetherness will be the key to resurrecting Chelsea's fortunes. "It's important to work together in defensive situations and to work together in offensive situations," he said.
"Not with only strikers, wingers and midfielders in offensive situations. Or with only defenders in defensive situations. No, we must work together. We can improve a lot. It's important to understand this and to try to work together."