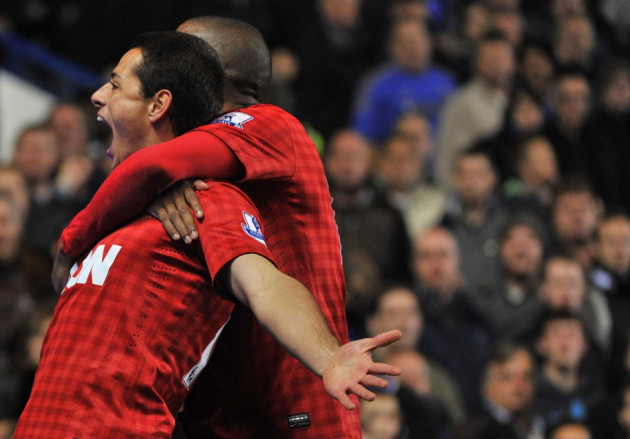 1800: Jonny Evans says that he feels there was a slight touch on Torres but he felt he made the most of it and deserved the second yellow. Not to sure about that but it certainly changed the game. The headlines will be about the performance of Mark Clatternburg but Chelsea showed they are genuine title contenders after battling from 2-0 down, while Manchester United will feel that is a big win having not won at Stamford Bridge since 2004. That brings to an end an exciting day of action in the Premier League, thanks for reading and we'll be back next weekend.
1752: The final whistle goes and Chelsea will feel incredibly hard done by. Well done to United though who managed to take advantage of the decisions and pick up a valuble win to move to within one point of Chelsea into second place. We can't wait to hear what Di Matteo will say about the decision of the referee to send off Torres. It changed the momentum of the game and really made it impossible for Chelsea to go on and get the win.
1749: Valencia has the chance to make it four as he goes straight through and is one-on-one with Cech. However, his effort is dreadful as he drags it well wide. Just seconds earlier the winger got booked for diving it another strange call from the referee as it looked like he was clipped by Mikel.
1748: Chelsea have five minutes to try and find an unlikely leveller but it will be difficult with nine men.
1743: The interviews with Di Matteo and Ferguson after the game will be interesting. The Chelsea boss has every right to question numerous decision from the officials today. His side are still giving it their all as Hernandez has a chance to get another but his left-footed effort from 12 yards flys over the bar.
1739: Finally Sturridge does come on for Hazar. That is all three attacking midfielders sacrificed now as they look for a late equaliser. They had nine men last season when they lost to QPR and they really should have won that game. It would be sensational if they managed to get a draw.
1732: You have to feel a bit sorry for Chelsea here as they fall behind. Petr Cech pulls off a superb save from Van Persie as the ball hits the post and comes out to Rafael. He shoots across goal and Hernandez is standing in an offside position but the linesman doesn't see it and the striker adjusts his body well to turn the ball home.
1732: GOAL Chelsea 2-3 Manchester United (Hernandez)
1730: Surely United will make Chelsea pay now. However, it won't be Wayne Rooney as he makes way for Ryan Giggs.
1727: Chelsea are fuming at that decision as they were just about to take Torres off to bring on Sturridge. Instead they have to sacrifice Mata and Ryan Bertrand comes on.
1724: RED CARD: Fernando Torres now receives another red card and Chelsea are down to nine men. I'm not sure about that decision as Jonny Evans goes to ground with studs showing and seemingly clips Torres. However, the referee rules that it is a dive and the Spaniard receives his second yellow card. Mark Clatternburg has stunned everyone with that decision and Ferguson is having a row with the Chelsea bunch who are disgusted with that decision.
1722: Ferguson now scents blood and he brings on another striker as Tom Cleverley makes way for Javier Hernandez. Chelsea also make a change as Cesar Azpilicueta comes on for Oscar.
1719: RED CARD: This could help Manchester United's cause as Branislav Ivanovic receives a straight red card. It was a lovely ball to set Ashley Young away and the Serb clipped the heels of the winger just outside the penalty area. He is a touch unlucky but with the letter of the law he had to go. The resulting free-kick is taken by Wayne Rooney but it goes safely over the bar.
1717: United are trying to stem the tide here and attack is probably the best form of defence. They force a corner but it is straight into the hands of Petr Cech and Chelsea are on the ball once again, looking to win a game from 2-0 for ths first time in 10 years since they did it against Charlton.
1712: This time Hazard has the chance to put Chelsea in the lead. A well weighted ball from Mata drifts over the heads of the United defence and the Belgian trys to steer it home with the outside of his right foot but it goes wide. He possibly should have used his left foot but it was a delicious ball from Mata once again.
1711: Great stuff this from Chelsea as they show just why they are top of the league. Again there is good work from Mata who crosses from the right and the ball eventually finds its way to Oscar. The Brazilian stands the ball up and Ramires cimbs the highest to head home. They are really in the ascendancy now.
1711: GOAL: Chelsea 2-2 Manchester United (Ramires)
1710: Another shot from Juan Mata after some nice link up play with Eden Hazard. However, it's a rather tame right-footed shot from the edge of the area which is easily saved by De Gea. The little Spaniard really is in fantastic form.
1702: We are back underway at the Bridge and United have an early corner which is cleared and Chelsea look to counter with Torres but it eventually comes to nothing. The Blues will want to carry on the momentum they built up towards the end of the first half as they have shown they can penetrate thsi United defence.
1647: HALF-TIME: Chelsea wouldn't have wanted to hear the half time whistle as they had finally managed to get a foot hold on the game. If they play like that in the second hald then they will definitely create more chances. It is nicely in the balance now after that magical strike from Mata.
1643: There is nothing De Gea can do about that strike as Juan Mata bends a free-kick into the corner. That was a beautiful effort as he curled it round the wall and left the Spaniard with no chance. There is another chance just seconds later as Mata has another shot but this time it is well saved.
1643: Chelsea 1-2 Manchester United (Mata)
1642: Great save from De Gea as he claws away a header from his fellow Spaniard Fernando Torres. That looked for all the world that it was going to be a goal. Chelsea are certainly having a good spell now.
1639: Chelsea have a bit of momentum after that chance as David Luiz thumps another free-kick goalwards but it is well blocked. All of a sudden they are getting at United though and they will be desperate to get a goal back before half time. They have around five minutes to try.
1635: Very nearly another own goal as Jon Obi Mikel fires across the box and it is deflected onto the post by Jonny Evans. From the resulting corner Gary Cahill thinks he should have scored as he gets a free header but it is blocked by De Gea and Ferdinand.
1629: Chelsea are really struggling to break down United. Rooney is dropping deep when they have the ball to form a shield of five players in front of the defence. They are also counter attacking at real pace with Valencia looking very dangerous.
1624: Chelsea have their first shot on goal and it brings an awkward save from David De Gea. David Luiz hits a free-kick from distance and it dips late forcing the Spanish keeper to save it with his feet.
1621: It's just not happening for Chelsea at the minute and they are under real pressure. The decision of Sir Alex Ferguson to revert to a 4-4-2 seems to be paying dividends as United are bossing the midfield.
1617: Chelsea are trying to put United under some pressure as Eden Hazard manages to get to the byline but United have plenty of players back to deal with the cross. Torres then has a chance to feed Mata but his ball is overhit and goals for a goal-kick.
1612: This is far too easy for United and they are opening up Chelsea at will. Ferdinand played it to Rafael who then gives it to Valencia who fired the ball across the box and Van Persie is free to turn the ball home from close range. I wonder if Chelsea can mimic Everton and come from two down.
1612: GOAL Chelsea 0-2 Manchester United (Van Persie)
1611: Manchester United have won just once in their last 12 visits to Stamford Bridge but they are enjoying some early possession here as Chelsea struggle to get into the game.
1607: We thought there would be goals in the game and that is the perfect start. Chelsea will want to show their attacking prowess as soon as possible but it is a superb start by United and the inclusion of Young looks inspired.
1603: We haven't had to wait long for another chance and it is Van Persie again doing the damage as his shot cannons off the post and hits the back of David Luiz and goes into the back of the net. There was nothing the Brazilian could do and he is a little unfortunate but it was nice play from Young and Rooney to set up the chance for the Dutch striker.
1603: GOAL Chelsea 0-1 Manchester United (David Luiz OG)
1602: And we're off. Chelsea immediately look to get on the front foot but the first effort of the match comes from the left-foot of Robin van Persie who smashes his shot straight at Petr Cech.
1555: This is a big game for Chelsea as they look to put their Champions League disappointment behind them and move seven points clear of Manchester Unted with a win. Sir Alex Ferguson knows that his side have struggled defensively and will hope the attacking threat of Van Persie, Rooney, Valencia and Young can help them gain a valubale three points. I don't think we'll be sticking our necks on the line by saying that there will be goals in this game.
1550: Team News
Chelsea: Cech, Ivanovic, Luiz, Cahill, Cole, Mikel, Ramires, Hazard, Oscar, Mata, Torres. Subs: Turnbull, Romeu, Moses, Marin, Sturridge, Azpilicueta, Bertrand.
Man Utd: De Gea, Da Silva, Ferdinand, Evans, Evra, Valencia, Carrick, Cleverley, Young, Rooney, van Persie. Subs: Lindegaard, Anderson, Giggs, Hernandez, Nani, Welbeck, Scholes.
Referee: Mark Clattenburg
1545: We've already had a cracking game at Goodison Park where Liverpool were denied a late winner as Luis Suarez had a goal disallowed for offside in the 2-2 draw against Everton, and now we are surely in for more goals as Manchester United prepare to play Chelsea at Stamford Bridge. The big news is that United have gone back to a 4-4-2 with Antonio Valencia and Ashley Young on the wings, while Chelsea stick with Fernando Torres being supported by Oscar, Eden Hazard and Juan Mata.