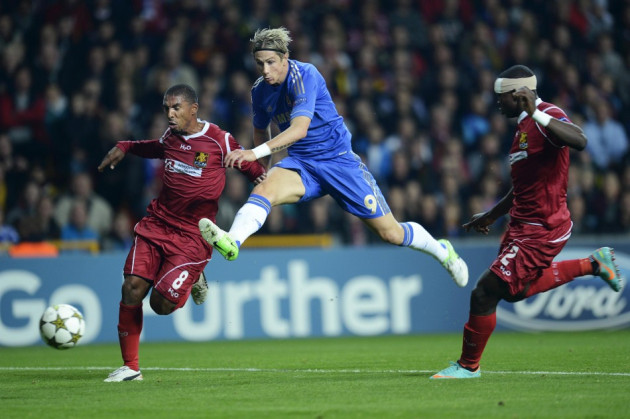 Chelsea manager Roberto Di Matteo has admitted he fears striker Fernando Torres may struggle this season as well. The Spanish forward, who signed for a club record £50m, had a terrible first season with the Blues, scoring just once in 25 appearances towards the end of the 2010/11 season. He improved slightly in his first full season with the club, scoring 11 goals but that return in a total of 66 appearances was absolutely unacceptable.
However, since the departure of Ivorian international Didier Drogba this summer, the former Liverpool striker seems to have recovered some measure of form. The World Cup and European Championship winner already has five goals this season and, more importantly, is playing regular first team football. The latter was something he was not able to command with Drogba in the squad. However, the fact he has started every single game this season for the squad has led to Di Matteo expressing concern his star forward may suffer a burn-out.
"There are no signs of Fernando being burned out at the moment, but it's something we have to look at," the Italian was quoted as saying, and adding, "This is our seventh game in 21 days and with the intensity and tempo of these matches it's going to be very difficult for anyone to play in them all."
Drogba's departure in the summer was a heavy blow to the Blues' goal scoring capabilities. The powerful centre forward was a reliable supply of goals, particularly in the big games and against high-profile opponents. Indeed, the fact the 34 year old, in his last season with the club, scored winning goals in the FA Cup and Champions League final highlights his tremendous value.
The Blues were expected to sign a new striker to replace Drogba but due to a combination of reasons, one of which was DI Matteo expressing complete faith in Torres' ability to take over the goal scoring mantle from the African, the club failed to acquire a second senior forward. This left young England international Daniel Sturridge as the only other recognised striker in the senior squad and given his recent poor injury record, it is no surprise Torres has started every single competitive game the club has played so far.
Once again, as Chelsea prepare to host Norwich City in the Premier League, Sturridge's injury means Torres will lead the Blues' line out on to Stamford Bridge.