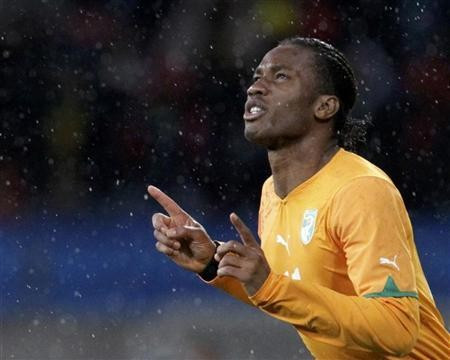 AC Milan vice president Adriano Galliani has quashed reports that he might be considering purchasing Didier Drogba or Nicolas Anelka on the advice of Carlo Ancelotti, insisting that even though Antonio Cassano has been ruled until next year, he will only sign a striker on loan.
Cassano underwent heart surgery recently, and won't return to San Siro for at least seven months while he recovers from a rare illness.
Meanwhile, Drogba and Anelka are still in talks over contract extensions with Chelsea. Both are hoping for more time to be added to the deal on offer from the Blues, and discussions have reportedly stalled as the club come to loggerheads with the pair.
This has left Drobga and Anelka open to interest from other clubs, and Ancelotti, who managed Chelsea to their first FA Cup/Barclays Premier League trophy double, has reportedly told Galliani to make a move.
But while Galliani joked about taking them on, he said that a loan deal until Cassano recovers is a more likely option, if the club choose to sign a replacement striker at all.
"Ancelotti has suggested we take Anelka or Drogba? Ancelotti understands football. Perhaps we will take them both!" Galliani told La Gazzetta dello Sport.
"But seriously it is not certain that we'll take someone in January and, eventually, it would be a loan because I promised to keep a place for Cassano.
"Anelka is a major player but I have been in love with Drogba since he played in Marseille."
He also insisted that Inter would not be chasing Manchester City striker Mario Balotelli, who has hinted in the past that he would like to return to Italy at some point. The 21-year-old has been the subject of some controversy at City, but since settling he has scored seven goals in his last eight appearances and is drawing attention from numerous clubs.
"Right now I think it is impossible for any Italian team to think about Balotelli. He has only sympathy for our colours," he said.
Chelsea will no doubt be the subject of a great deal of transfer rumours when January rolls around, if Drogba and Anelka continue to stall on talks. And while Drogba has insisted that he is happy to fight for his place at Stamford Bridge, if the Ivory Coast international continues to be passed up for Fernando Torres, Romelu Lukaku and Daniel Sturridge, his head may be turned by the right offer.