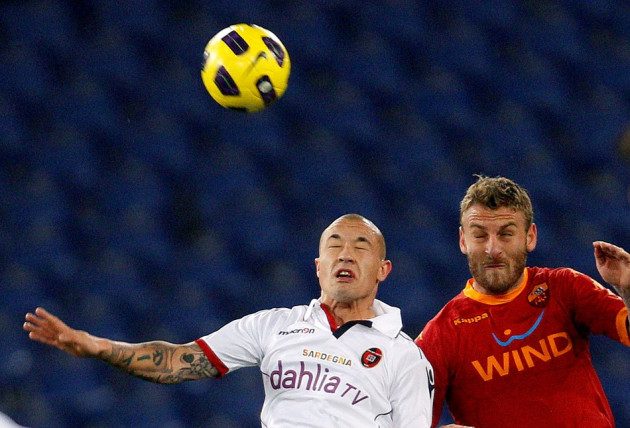 Daniele De Rossi looks set to snub Chelsea and Manchester City and sign a new contract with Roma, according to reports in Italy.
The 28-year-old midfielder was linked with a move to the Premier League in the summer with Manchester United also interested, but a move never materialised.
De Rossi's contract at Roma expires at the end of the season and both Chelsea and City had reportedly been weighing up an approach in January.
However, Ernesto Bronzetti, De Rossi's agent, has said the midfielder is set to stay in Italy and is prepared to sign a new, improved contract.
"De Rossi will continue with Roma," Bronzetti told Italian TV station Italy 1. "They are negotiating at the moment, but in the end he will sign a new contract."
Manchester City manager Roberto Mancini, a long-term fan of the midfielder, said earlier this week that it would take a significant bid to prise the player away from his hometown.
"I wouldn't be surprised if he stays in Rome," said Mancini. "but if he doesn't sign, City will be ready.
"It's difficult to tear away a Roman footballer - and Roma fan - from Rome. As Romans are tied up in their origins and lifestyle.
"But if one day De Rossi is on the market, Manchester City will try - like Real Madrid, Chelsea and all the big clubs."