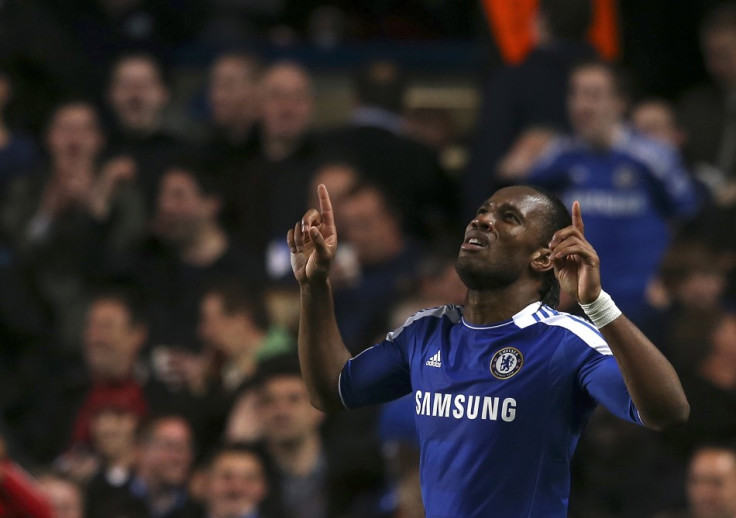 Barcelona are lining up a shock swoop for Chelsea striker Didier Drogba in the summer transfer window, according to a report in The Sun which quotes a Barcelona source as saying the Ivorian fits the profile of players the club is looking to sign.
The 34 year old will be out of contract soon and is expected to leave the Blues with a host of clubs ready to bring him aboard. Drogba is understood to be attracting interest from the US and China but according to the Catalan source, the Spanish giants are in the race for his signature.
"What the team needs is an attacking player who has the presence and strength to trouble defenders. Drogba has that profile and is one of the players the club are looking at," the newspaper quoted the source as saying. The Ivorian had scored the winner against the Spaniards in the first leg of their Champions League semi-final tie, at Stamford Bridge, last month.
Drogba's former club Olympique Marseille are reportedly also interested in re-signing the player, who scored 19 times in 35 appearances in 2003.
Meanwhile, Chelsea defenders David Luiz and Gary Cahill have claimed they will be fit to face Bayern Munich in the Champions League final on Saturday. Both centre-backs have been struggling for fitness due to hamstring injuries and have missed their club's recent matches. Now, with captain John Terry and versatile defender Branislav Ivanovic set to miss the final due to suspensions, Chelsea's hopes rest on Luiz and Cahill.
Luiz, who was stretchered off during the FA Cup semi-final against Tottenham with a muscular injury around a month ago, missed both Champions League encounters against Barcelona and the FA Cup final against Liverpool.
"I will play the game, I am preparing myself well, I trained during the whole day today and I did not feel any pain. Thank God I am feeling well. I am happy to be able to do what I like the most which is to play football, and be part of such an important moment like this," Sky Sports quoted the Brazilian as saying.
Cahill, who pulled his hamstring in the second leg of the Champions League semi-final at Camp Nou, completed his first full training session for three weeks.
"I'm just happy that it's healed quickly. We've worked really hard, all day, afternoons, and I'm fortunate enough to be back. I will be fit, and hopefully I'll be out there if selected," the Mirror quoted the 26-year-old.