Chelsea coach Roberto Di Matteo has moved to praise the Blues' after the 3-2 last-gasp home win against Shakhtar Donetsk in a Champions League group stage match. The reigning champions registered a late winner, courtesy Nigerian winger Victor Moses, to go top of Group E, with seven points from four games. The 42- year-old manager described the win a "crucial" one.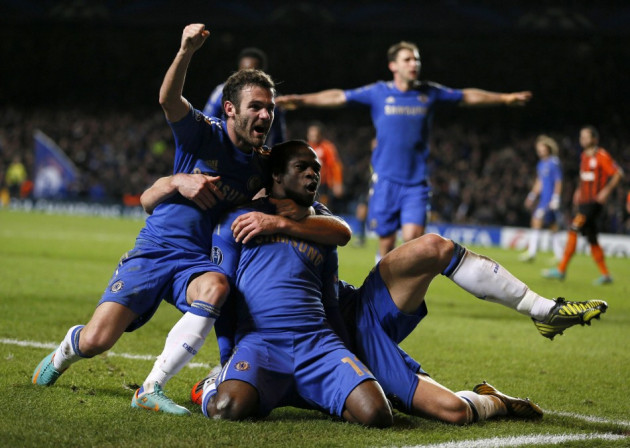 "It was crucial for us to win this home game. It was obviously going to be a tough game that would be decided by the little details. They are a very good side and they showed tonight how good they are," the former Chelsea midfielder said after the win, adding, of the group, "It will probably go down to the last game and probably the last kick."
The Ukrainian club shocked last season's title winners 2-1 at the Donbass Arena in Ukraine two weeks ago, with the highly-rated Brazilian trio of Willian, Alex Teixeira and Fernandinho leading the home side. The 24-year-old Willian has long been a transfer target for Roman Abramovich and the London club. His brace at the Bridge, twice putting the visitors in the lead, was a perfect illustration of why he is so highly regarded.
Spanish striker Fernando Torres and Willian's compatriot, Oscar, scored to tie the match at 2-2, before Di Matteo brought Moses off the bench with 10 minutes to go. The 21-year-old, a summer signing from Wigan Athletic, then sealed all three points with a 94th minute header in a match the Blues did not really deserve to win.
"We knew the kind of pressure we were under and it was must-win for us. We didn't want to expose ourselves too much. We knew we could have scored a goal with the last kick and that is what happened. We knew we needed to score a goal probably from a set play. It was good Victor got on the end of it," Di Matteo explained.
The manager claimed his side did put the pressure on the visiting side during the first half of the game but were unable to continue the same during the second-half of the game.
Blues to Sign Defensive Reinforcements
Meanwhile, ESPN reports Chelsea will soon announce the signing of Brazilian right back Wallace for €5.5m (approximately £4.5m). The information is believed to come from a local news outlet but has yet to be confirmed by Stamford Bridge officials. It appears Wallace, 18, who presently plays for Brasileiro side Fluminense, was already partially (40 percent) registered to Chelsea and the £4.5m represents the remaining 60 percent of his value. Wallace will remain with Fluminense until the end of the current Brazilian league season, on loan with the club.