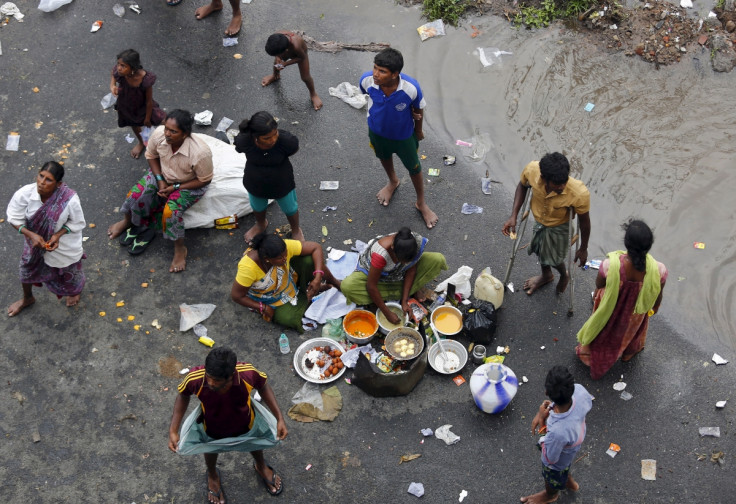 The south Indian city of Chennai which has been devastated by the worst floods in living memory seemed to be limping back after the floodwaters started receding and the Sun made a brief appearance. But the overflowing lakes which have breached their banks and inundated several areas of the city remain a major worry.
Citizens are waging a grim battle for survival in the face of shortages of essentials such as food, milk, water and petrol. Prices have shot up up to five times as traders look to make a killing. Many have had to abandon their flooded houses to move to safer areas. Thousands have lost most of their belongings.
Train and air services remain suspended barring a handful of special services. Road transport is gradually looking to pick up except in the low-lying pockets of the city which are still under water.
Chennai, with a population of 4.8 million, has been facing rain fury continually for several days leaving tens of thousands stranded and isolated. The coastal city, which often faces water shortage, is frequently mocked by people of other Indian cities for having only "hot, hotter, and hottest" weather with no winter. Images of flood-filled houses and waterlogged streets are bound to change that perception.
ATMs are fast running out of cash. At least 15 patients have died in a hospital after the power supply was knocked out severing their oxygen connections in the ICU. At least half a dozen deaths have been reported across the city with the bodies lying inside marooned houses as the rescue boats could not reach them. Frantic phone calls made from family members staying in other parts of the world have gone unattended.
Crowd-sourcing efforts
On the brighter side, not just victims and rescue personnel but also groups and individuals have resorted to social media using it extensively for spreading flood-related messages. Crowd-sourcing websites have been launched by NGOs in order to assist in the ongoing emergency measures.
An interactive crowd-sourced google map has been created to help people navigate within the city and avoid flooded streets. Various groups from neighbouring cities such as Bangalore and Hyderabad have rushed to Chennai carrying relief materials ranging from food packets to blankets to tampons to power-banks.
Scores of public figures, including film actors, have pitched in to coordinate the rescue efforts. Siddharth, a popular actor in the state of Tamil Nadu, attracted praise from many corners after swiftly paddling into relief efforts distributing essentials and saving the stranded.
While Facebook has announced a special to mark whether you are "safe" in the Chennai floods, Google has created a dedicated web-page listing all the resources related to the crisis. A list of all the places offering free shelters across Chennai has also been set up.
Dogs saved
Besides the efforts for the humans, rights groups have made special attempts to save dogs and other animals. The Chennai-based "Hotel for Dogs" moved the canines to Bangalore after getting a series of requests from pet-owners fearing for the animals' safety.
"As the rains keep pouring and our city is slowly sinking. We have been getting a lot distress calls from dog-owners requesting us to board their dogs as they have been told to evacuate from their houses. All arrangements have been made for your dogs to travel safely to our Bangalore facility. They would be brought back once the situation is back to normal in Chennai," said the group.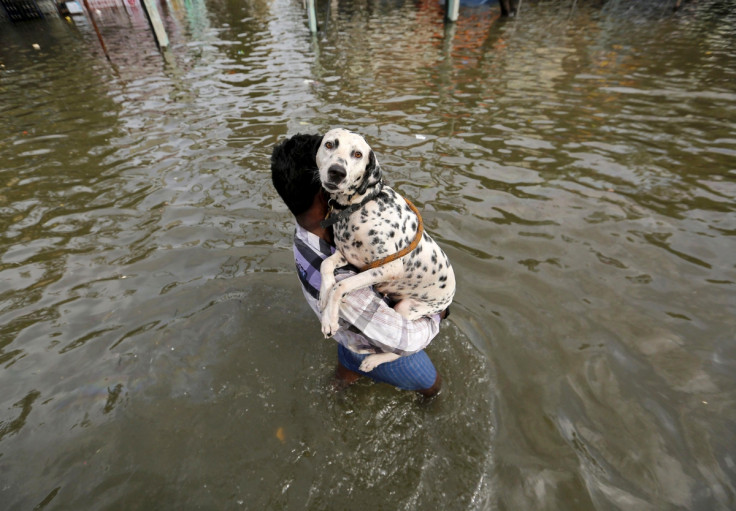 Disabled and patients
Disabled people and patients are some of the worst affected by the floods. While scores of doctors and hospitals have voluntarily offered free treatment and medicines, people have alleged the government remains negligent in coming to the aid of the victims. Medical camps have been erected on boats in some areas.
Adding to the woes, the sewage from the drainage system has leaked in many parts of Chennai and entered drinking water sources apart from mixing with the water in the flooded streets. This has raised serious concerns of an epidemic outbreak.
As the rescue efforts moved into top gear, O P Singh, director general of the National Disaster Response Force which is overseeing the operations, said: "We have rescued more than 10,000 people till now. Twenty more teams from various locations have been mobilised to Tamil Nadu and the total strength of the NDRF by tonight would be 50. We expect to have better results today as things have improved and rains have stopped over the last night."