The incessant downpour battering the southern Indian city of Chennai is testing the limits of every single entity ranging from residents' determination and the city's brittle infrastructure to the military's resilience and the ill-equipped government authorities. With roads turning into rivers from the flooding waters, residents are fleeing the city in hundreds, if not thousands.
Chennai, the fourth largest city in India, is witnessing unprecedented rainfall for several days consecutively, bringing the capital of the state of Tamil Nadu to a grinding halt. Disrupting the power supply and paralysing transport services, the rain-generated floods are likely to cause more destruction as weather forecasts warn of more rainfall in the coming days.
Tamil Nadu has declared Chennai a "disaster zone" meaning emergency measures are being carried out on a war-footing. Indian Prime Minister Narendra Modi is set to have an aerial tour of the city and its outskirts to assess the situation. Chennai — touted as the "Detroit of South Asia" owing to its string of manufacturing facilities — was just limping back from the devastation caused by an earlier spell of rain in November.
Paralysed transport services
Government authorities in the state government of Tamil Nadu are struggling to even assess the damages caused by the floods. India's southern naval base INS Rajali, which has the biggest military runway is Asia, has been converted into a makeshift airport as the international airport in Chennai will not be opened until Sunday, 6 December. The naval air station is located in Arakkonam, about 70km from Chennai, where bigger planes operated by the Indian Air Force carrying relief materials will also land.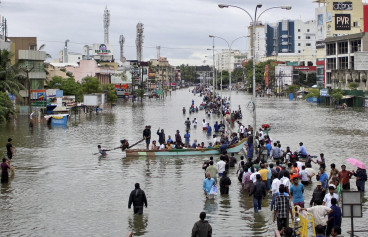 Planes parked in the Chennai airport remain submerged with runways flooded and deserted. "By 6am today [2 December], the situation had deteriorated severely, leading to submerging of entire operational area in approximately seven feet of water. All incoming flights were diverted to alternate airfields, except one international flight which was cleared due medical priority," said a government statement before shutting down the facility.
"During the closure, 12 domestic and 12 international arrivals were diverted on 1st December 2015. 34 numbers of aircrafts are stranded at the airport. All international and domestic flights to and from Chennai have been cancelled."
Thousands of passengers were left stranded at the airport when it was closed, but they managed to leave the base gradually between brief spells of low rain. Two main train stations named Chennai Central and Chennai Egmore — which connect the city to various other parts of the country — have also been closed for operations leaving the city in virtual isolation.
Chennai isolated
As the overflowing lakes inundate several low-lying regions of the city, boats from the neighbouring city of Hyderabad have also been airlifted to meet the demands for more water transportation, which the city is not accustomed to.
Besides state-run institutions, private business and top IT firms have also declared a holiday for its employees. In a statement sent to the IBTimes UK, a spokesperson for the Tata Consultancy Services said: "The TCS offices in Chennai are shut today. The safety of our employees comes first and all our employees are safe and there is no water logging in any of the offices." Numerous offices of other companies have been flooded.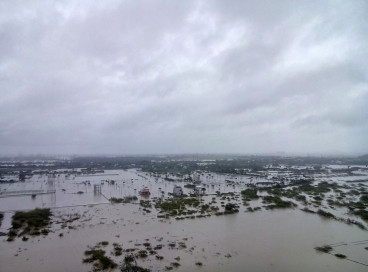 No less than 4,000 people have been evacuated in Tamil Nadu by rescue personnel so far, with hundreds of more people awaiting food and other essentials on their rooftops. Helicopters carrying food materials have also been swirling above the Chennai skies dropping food packets.
Though state-run and private mobile service providers have announced several schemes to facilitate the emergency efforts, mobile phones are running out of power rendering them useless. NGOs and groups have also called for donation of power-banks to the needy so as to provide communication. Despite the virtual lockdown, social media has proved beneficial for many as scores of affected people have resorted to Facebook, WhatsApp and Twitter for assistance.