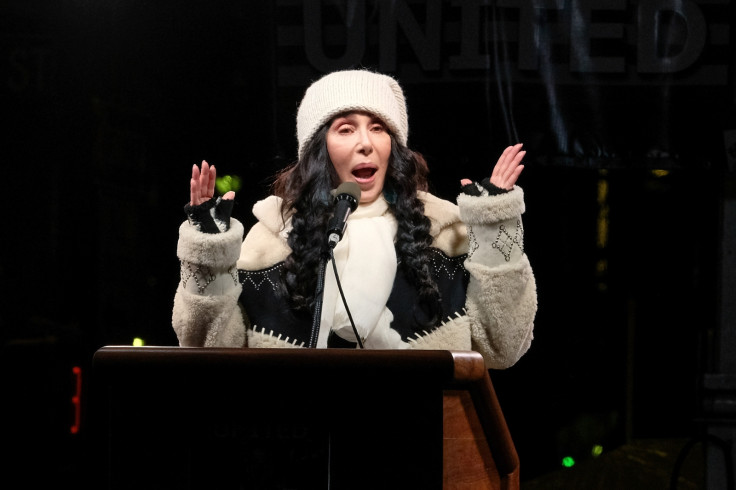 Singer Cher has fired another round of criticism at Donald Trump. Twitter followers are often entertained by Cher's barrage of criticism towards the president and his political agenda but the Believe singer explains she is simply "outraged" by the leader.
Trump, 70, is currently embroiled in a political scandal, which has drawn comparisons to Watergate during Nixon's administration, after reports claimed he passed on classified information to Russian diplomats. In a candid interview with Billboard, Cher defends her no-holds-barred Twitter feed stating she feels compelled to speak out constantly against Trump's office.
Cher told the publication: "Since Trump was elected, I have to hide my telephone, because I'm so outraged. Twitter is like a drug. It creeps into your life, and you have to say, 'Time to put a stop to this. I'm a grown-up.'"
The pop star continued: "The president is cheating and getting away with it, and using the White House to make money, and he's going to take healthcare away from people, and people are going die. It's outrageous. You feel like you're screaming 'Fire!' and no one's listening."
"The Democrats f****d up so bad in their message, and how old [the leadership] is. You've got to pray that old people die before young people can get involved with the party. I told Hillary [Clinton] she should have a group of millennials give their ideas about government."
Cher has become one of the most vocal Trump denouncers in music since the commander-in-chief was elected in November 2016.
The Turn Back Time singer has labelled the president everything from an "a*****e", an "idiot" and "thug" while she has even compared him to Nazi leader Adolf Hitler. The disco queen was also a prominent face at the Women's March On Washington event, which took place the day after Trump's inauguration in January and stood up to the president's sexist comments.
Joining calls for Trump to be impeached in light of the information leak controversy, Cher tweeted: "TRUMP ISNT READY 4WHATS COMING... SQUAD,PENCE, RYAN,SESSIONS &ENTIRE GOP R GUILTY."