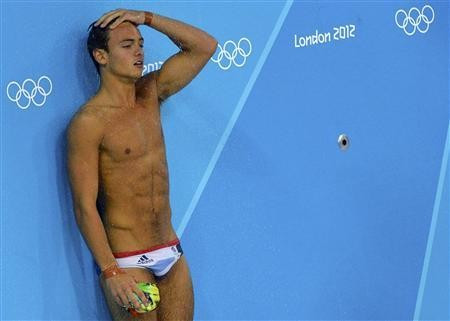 Singer Cheryl Cole is the latest to join the bandwagon of fans of young Olympic diver Tom Daley.
Cole tweeted her support to Daley: "I think you are amazing! Will you teach me how to swan dive?"
The 18-year-old diver was quick to reply, retweeting: "Of course!!! But first you need to follow me ;)".
The 29-year-old humbly accepted his request, adding him to 190 users she follows on Twitter and replied: "Deal. #Followed".
This was the needed encouragement and support for Daley after a rather disappointing start to the week. Daley and his partner Pete Waterfield missed out on a medal, after finishing fourth in the men's synchronised 10m platform diving event at the Olympics.
Shortly after the event, Daley received a message from twitter from user Rileyy_69 which said: "You let your dad down I hope you know that."
Daley responded by retweeting the message: "After giving it my all...you get idiot's sending me this..."
Daley's father Rob died of brain tumor last year.
"Winning a medal would make all the struggles that I've had worthwhile," the 18-year-old from Plymouth in Devon, told the BBC. "It's been my dream since a very young age to compete at an Olympics.
"I'm doing it for myself and my dad. It was both our dreams from a very young age. I always wanted to do it and dad was so supportive of everything.
"It would make it extra special to do it for him."
When news of the malicious tweet spread, the teenager attempted to apologise.
He tweeted: "@TomDaley1994 I'm sorry mate I just wanted you to win cause it's the Olympics I'm just annoyed we didn't win I'm sorry tom accept my apology."
He later added: "Please I don't want to be hated I'm just sorry you didn't win I was rooting for you pal to do Britain all proud just so upset."
"I never knew your dad past [sic] away I've only just found out my mum past away to man," he wrote.
However, the Dorset Police took action and arrested the 17-year-old and kept him at a guest house in the Weymouth area of Dorset.
"A 17-year-old man was arrested by Dorset police officers in the early hours this morning at a guesthouse in the Weymouth area on suspicion of malicious communications. He is currently helping police with their inquiries," a spokesw