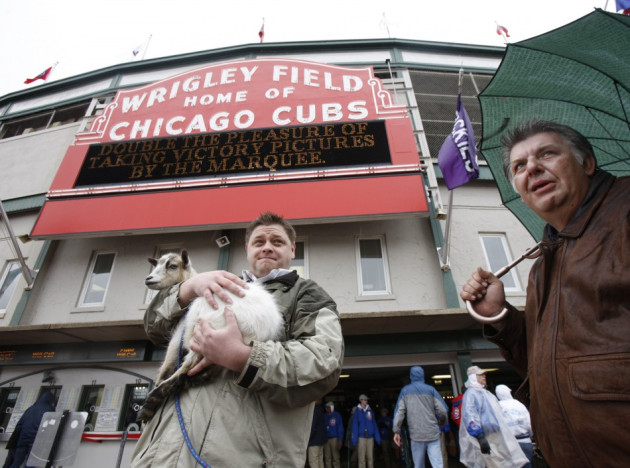 A goat's head was dumped at the gates of Chicago's world famous baseball ground at Wrigley Field in a bizarre stunt that has officials scratching their heads about whether it was a Godfather-like warning or a bid to reverse an old curse on the home team, the Chicago Cubs.
Police are hunting a man who asked a security guard at the venue to deliver the package to Cubs owner Tom Ricketts then drove away. The "intimidating package" was opened by security officials who found inside a blackened goat's head with a US Department of Agriculture tag on its ear.
Ricketts has been in the firing line for his plans to renovate Wrigley Field with a new scoreboard and increasing the number of night games from 30 to 40.
Fans of Francis Ford Coppola's masterpiece The Godfather have already suggested a connection with the famous scene in the film in which a studio boss who snubs a mafia instruction finds the severed head of his horse in his bed.
But the goat's head may just as easily be a superstitious attempt to reverse an old curse on the team.
In 1945 hardline Cubs' supporter and tavern-owner Bill 'Billy Goat' Sianis put a curse on the club after he and his pet goat Murphy were barred from getting into the ground to see the World Series game against the Detroit Tigers.
Sianis appealed directly to club owner PK Wrigley and asked why he had been barred. "Because the goat stinks," came the famous reply.
An angry Sianis put a curse on the team saying: "The Cubs ain't gonna win no more!" They have not won the National League or the World Series since and have been nicknamed "the Loveable Losers".
Some fans even founded a charity, Reverse The Curse, in 2011. It donates goats to poor communities around the world in the name of breaking the hex. Five Cubs fans raised money for cancer research on a sponsored walk.