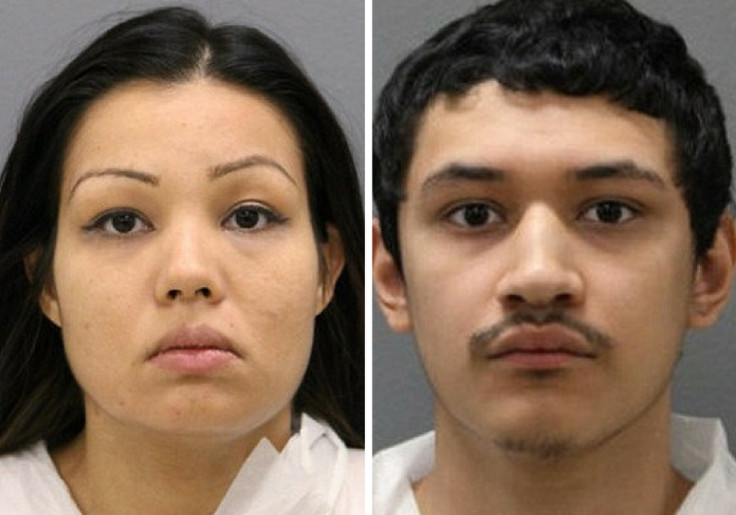 An Illinois mother has been accused of dressing her dead four-year-old son and then setting him alight in an abandoned building to conceal historic abuse and keep custody of her other children, say prosecutors.
Chicago mother-of-three Alyssa Garcia is alleged to have starved and abused Manuel Aguilar before his death in July 2016.
Reports say that firefighters who found his burned remains in a disused property thought he looked like a nine-month-old baby because he was so malnourished. The 27-year-old is also the mother of twins who have been taken into custody since the incident.
Along with Garcia, her friend Christian Camerena, 19, and a 17-year-old boy have been charged with felony counts of concealed death and attempted residential arson linked to the child's death. Extra charges could be brought against the trio when the medical examiner's office determines a cause of death, police said.
Prosecutors say Garcia admitted that she did not seek medical attention for her child or call police when she found him lifeless on 29 July because she feared family services would take her other children into care.
The 17-year-old washed Manuel's body before putting clothes on him, before burning his corpse in an abandoned building. According to the Chicago Tribune, police responded to a report of arson where they found the body and spotted the trio fleeing the scene from the rear of the building.
The newspaper also reported that the boy was kept in a back room of her family home for a year despite it smelling of faeces and urine and that he was beaten and starved when he wanted to leave the room. Assistant State Attorney Jamie Santini said the child was left naked because he would urinate on himself and had suffered a black eye and beatings caused by shoes.
"Witness stated that Manny didn't like being in the back room, and he would scream, 'Let me out,'" Santini said. "Based on their initial observations of the body of the four-year-old, investigators believed that they had found the body of an infant that was approximately nine months of age."
It has also been reported that in 2012, Garcia was sentenced to 18 months supervision for endangering the life of a child.