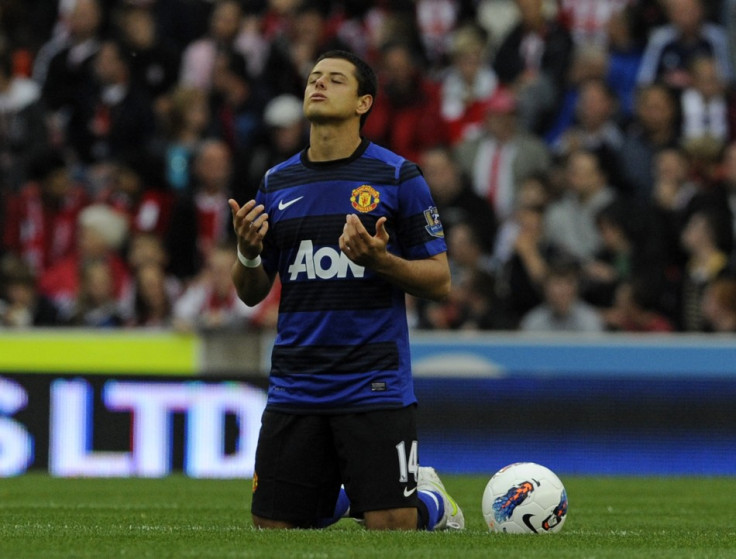 Javier Hernandez says he isn't heading to Amsterdam to take away a draw, with Manchester United currently preparing for their match-up with Ajax in the Europa League.
The Red Devils were relegated from the Champions League group stages at the end of last year, and though some have accused Sir Alex Ferguson of not treating the Europa League seriously, the manager insists that the side are in it to win it.
"We definitely want to win this tournament," he said, as reported by ESPN.
"I am treating this seriously. We're going to have a go. The thing is to look forward to it. It's still European football, it's still a good standard of football."
And now Hernandez, who is raring to show Ferguson that he is deserving of a starting place in the United squad, believes that the side will not be looking for an away draw come Thursday; the striker will be gunning for the win.
"Playing at home in the second leg is important but it's only a small advantage - it doesn't guarantee victory," Hernandez told the official United website.
"It'll be a difficult game but we'll go to Amsterdam looking to win.
"The Champions League is the best competition in Europe and it's a bit strange to be in the Europa League. But we want to win every tournament we enter.
"Both teams have a lot of history in Europe, so it should be a great game."
Ferguson, meanwhile, has admitted that he is still haunted by United's shock loss to Basel in the Champions League group stages, and the Scot says that he hopes to soon show that the English giants are closer to European rivals Barcelona and Real Madrid than some pundits think.
Sky Sports reported Ferguson admitting: "The problem was the home game against Basel. We ended up losing our concentration and though we managed to salvage a draw, it was a bad result.
"We dominated the return game, but didn't score and when that happens you don't deserve to win.
"I don't feel we're that far away from Barcelona and Real Madrid. I'm sure we'll show that soon."