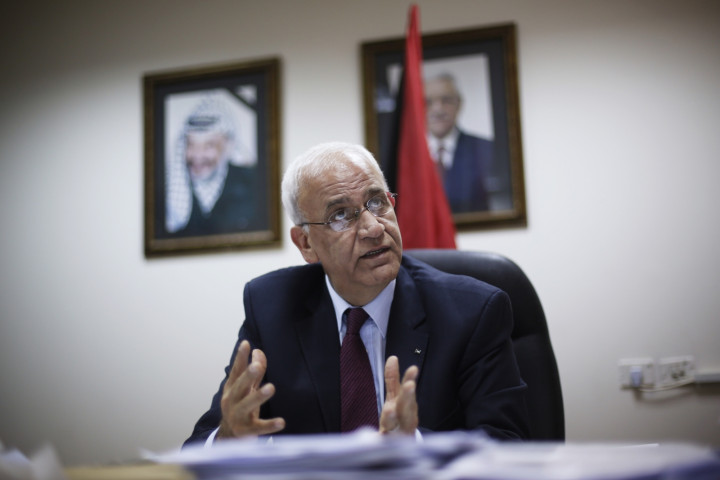 The Palestinian Authority's chief negotiator Saeb Erekat has claimed that 96% of those killed in the recent Gaza conflict with Israel were civilians, accusing Israel of "genocide".
Erekat made his comments in a radio interview with Israeli Army Radio says that "genocide is a direct attempt to eliminate, horrify, relocate, destroy a way of life" and this is "the reality on the ground in Gaza today".
"Israel committed the killings 12,000 people and wounding 12,000 Palestinians. 96% of them are civilians. Israel demolished 50,000 homes, Israel as a result of this war made 500,000 people homeless."
It is believed that Erekat misspoke and intended to state that 2,000 Palestinians were killed in the Gaza Strip, with the UN's official Palestinian death toll of the conflict standing at approximately 2,100.
Erekat then spoke of what he believes to be Israeli "apartheid" and the demands of the Palestinian Authority for a future Palestinian state.
"You have a government that does not believe in a two-state solution. You have a government that believes in one state, two systems. This is a translation of apartheid."
"[We want] a state of Palestine to live side by side in peace and security with the State of Israel on the 1967 lines.
"You are getting 78% of historic Palestine, I'm getting 22%. Then it will call upon the parties to resume negotiations in order to find solutions for all core issues without exception, including refugees, Jerusalem, borders, settlement, security."
In response to Erekat's comments, Israeli minister Gilad Erdan said that the Palestinian Authority's "industry of lies" were a form of "political terrorism" against the State of Israel.
"We have to understand that we have a stubborn enemy... The right and left in Israel have to unite against this Palestinian plot to delegitimise the state of Israel."
In his UN speech last week, Palestinian Authority President Mahmoud Abbas also stated that Israel was committing "genocide" against the Palestinian people.
"In the name of Palestine, I affirm here today, we will not forget or forgive, or allow war criminals to escape unpunished," he said.
"Israel has chosen to make it a year of a new war of genocide perpetrated against the Palestinian people.
US Press Secretary Jen Psaki criticised Abbas' remarks as "deeply disappointing" and "counterproductive".
In response, Erekat said that Psaki's criticism of Abbas' speech was " inappropriate, not responsible and unacceptable".
In the recent seven-week conflict between Israel and the militant faction Hamas, over 2,100 Palestinians - mostly civilians - lost their lives. All but five of the 68 Israeli fatalities were soldiers.