Syrian government air strikes hit a children's hospital, blood bank and ambulances in rebel-held eastern Aleppo. Medics and patients were forced to take cover in a basement as jet fighters and attack helicopters struck on Wednesday (16 November).
The fierce bombing was said to have killed at least 21 people, including an ambulance driver. Five of the victims were children according to the UK-based Syrian Observatory for Human Rights (SOHR). Another 47 people were reportedly injured in the aerial bombardment.
The Independent Doctors Association said the Bayan Children's Hospital was badly damaged and the director of hospital said he was forced to shelter in the basement. The latest strikes come the day after a three-week moratorium, declared by Bashar al-Assad's ally Russia, ended.
The children's hospital, which carries out about 4,000 consultations a month, was one of six medical centres bombed in Syria over the past 48 hours, according to the Independent Doctors Association. It said: "Like all the surrounding hospitals in eastern Aleppo it has been hit multiple times this year alone, putting 2016 on track to becoming the worst year of hospital attacks on record."
The centre's director, Dr Hatem, said in a message posted on Facebook: "A horrible day for the children's hospital. Me and my staff and all the patients are sitting in one room in the basement right now, trying to protect our patients. We are trying to leave the basement but we can't because of all the aircraft still in the sky. Pray for us please."
Russia has also manoeuvred its only aircraft carrier towards the Syrian coast, where it has begun missions initially targeting jihadists elsewhere in the country. The Kremlin will also be in a prime position to assist the Syrian Army on Aleppo.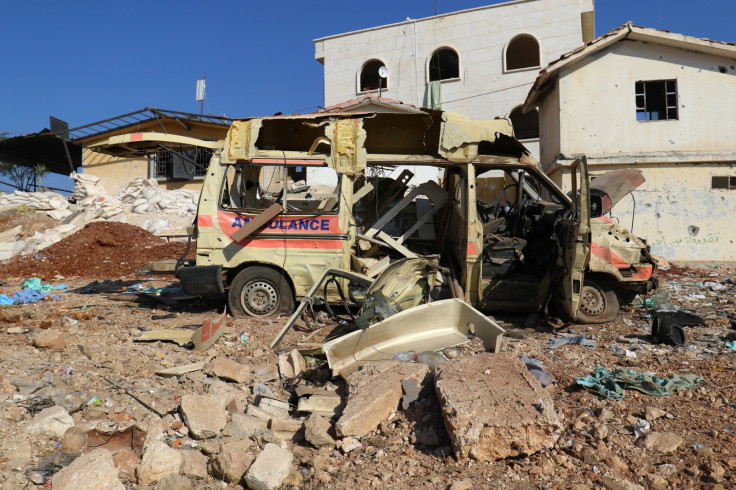 The Syrian government controls the west of Aleppo and its forces are aided by Iranian-backed militias and Russian air strikes, helping them to encircle a large swathe of the city. An estimated 275,000 residents still live in Aleppo, with around 700 civilians dying in air strikes and shelling in the east of the city and scores more in the west, according to the UN.
The UN has also warned there is a threat of mass hunger in the embattled area of eastern Aleppo amid food rations running low. The SOHR said missiles fired by jets, barrel bombs dropped from helicopters and artillery targeted several areas, including Shaar, Sukkari, Sakhour and Karam al-Beik.