A student protest on the eve of the Copa America, the South American football championship, turned violent. Police in Santiago used tear gas and water cannons against masked stone-throwing protesters.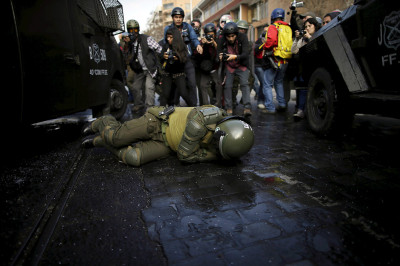 The mass demonstration attracted 200,000 students, despite reports that President Michelle Bachelet had approved new educational reform legislation. The new legislation would ban tuition fees, making university education free and improve teachers' pay and conditions.
However, students say they have not been consulted in the changes. "We are very vulnerable because we don't know what is going to happen with our studies. In the end, they [authorities] can take decisions authoritatively without taking us into consideration," said one protester.
Teachers joined students in the protests, demanding a greater say in the changes. "They have a bunch [of experts] who are dedicated to deciding what we need. We are the experts, we are the ones in the classrooms, those who live daily with the necessities of our students," said teacher Katia Oyarun.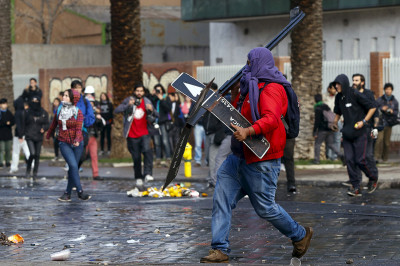 Protests for education reform have been raging for years in Chile and often descend into violence. Chilean police were forced to acknowledge the use of excessive force during a student demonstration in Valparaiso on 21 May.
Rodrigo Aviles Bravo, a Universidad Catolica de Santiago student, suffered critical head injuries after he was knocked over by a water cannon. Video and images were made public clearly showing that the young man received the full force of powerful blasts from water cannons.
Earlier this year, Chile's Congress approved the first batch of Bachelet's ambitious education reform which includes an end to profits at state-subsidised schools and eliminates their selective entrance policies.