A Chinese court on Wednesday (9 November) jailed 49 officials and handed a suspended death sentence to the head of a chemical factory, after multiple explosions killed 173 people in Tianjin last year in one of the deadliest industrial accidents in Chinese history.
In total, 25 government officials and 24 company managers have been imprisoned, with the harshest sentence reserved for Tianjin Ruihai International Logistics chairman, Yu Xuewei.
In August 2015, 304 buildings were damaged and 12,428 cars were destroyed by the explosion, causing an estimated $1.1bn (£885m) in economic losses.
Most of those that died were firefighters or police officers trying to help recover injured workers from the wreckage.
Eight bodies were recorded as never found, while an investigation found that stocks of highly flammable nitrocellulose – often found in nail polish – caught fire and spread to illegal stores of the fertiliser ammonium nitrate.
The explosions ripped through an industrial port area after many of the chemicals were improperly or illegally stored. Yu was arrested in February of this year.
Yu was found guilty of paying bribes that allowed his firm to sidestep safety regulations in order to store sodium cyanide and other dangerous chemicals.
In addition to his suspended death sentence, he was also fined more than 700,000 yuan over the disaster in the eastern port city, reported Sky News.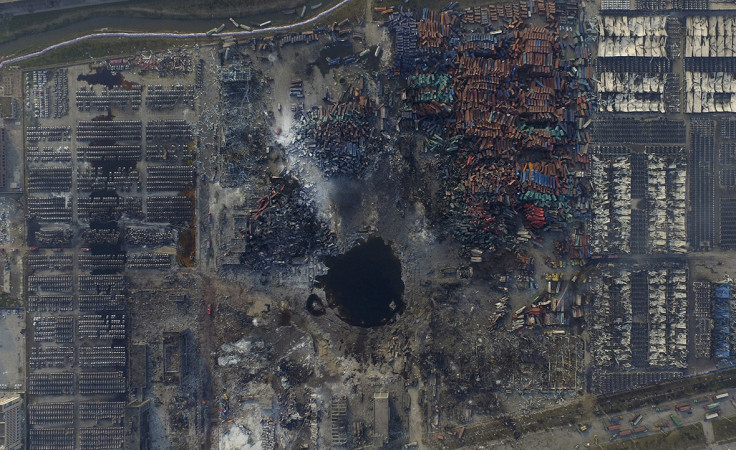 A Tianjin court heard how Yu had paid bribes to allow more than 49,000 tons of sodium cyanide and other toxic chemicals to be housed at a warehouse between 2013 and 2015.
Despite his suspended death sentence, such punishments are usually reduced to life in prison after two years' imprisonment.
According to state-owned Xinhua news agency, the court in Tianjin found 48 of the officials guilty of charges ranging from dereliction of duty, to taking bribes and abuse of power.
In February of this year, a government report into the disaster said that authorities in charge of the busy port on the Yellow Sea had ignored or broken laws covering the storing of dangerous chemicals.