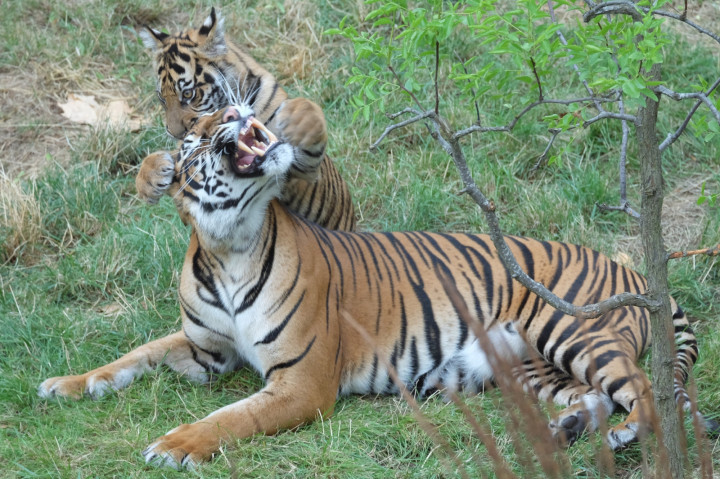 An eight-year-old girl was mauled to death by a tiger after she slipped through the bars of the big cats' cage.
Juan Niu went off on her own, without her family's knowledge to get a closer look at the predators.
The young girl walked up to the cage and managed to get through the bars and into the cage. She was pounced on by a tiger, and mauled in front of shocked park visitors.
Animal trainers were soon at the scene and managed to get the girl away from the tiger. However, she was in a critical condition when she was taken to hospital and declared dead on arrival.
The girl died of her injuries in hospital following the attack at Leheledu Amusement Park in the southwestern city of Chongqing, Xinhua news agency reported. She was visiting the circus on Friday 31 October with her relatives when she was attacked by the circus tiger.
The amusement park has offered to give the family compensation as well as pledging to improve security so the public are kept safe from the wild animals.
Park managers had hired a travelling circus as one of the acts to entertain visitors and had set up temporary holding pens for the animals, state media reported.
Park spokesman Manchu Hung said: "Nothing terrible like this has ever happened before and we take the safety of our visitors very seriously.
"We will pay all compensation necessary to the family and will make sure it's not possible for anything similar to ever happen again."
Tiger attacks are rare although zookeepers in the Chinese provinces of Anhui, Shanghai, and Shenzhen, were attacked and killed in 2010.
In January 2011, a Siberian tiger attacked and killed a tour bus driver at a breeding park in the northern province of Heilongjiang, China. Park officials reported that the bus driver broke safety guidelines by leaving the vehicle to check on the condition of the bus.
At a zoo in Germany, a Siberian tiger mauled a zookeeper to death in September 2013, after he forgot to lock the cage door during feeding time.