Protestors have started targeting restaurants and businesses selling dog meat ahead of the 2014 Yulin dog meat festival in the southern Guangxi Zhuang autonomous region.
Retailers said animal rights groups and campaigners have been entering the city in the hope of saving dogs and putting a stop to the annual event.
The feast, which includes eating dog hotpot and lychees, is due to take place on 21 June to mark the summer solstice, although some locals have had the feast early to avoid protests.
According to Xinhua news agency, activists searching for dog slaughterhouses stopped a motorcyclist carrying eight animals. He eventually agreed to sell the dogs for 1,150 yuan (£110). They also bought six puppies at a dog market for 1,200 yuan.
Dog lover Yang Yuhua, 64, said: "As long as we can save one dog, we will do it."
As well as animal cruelty issues, lawyers and health authorities have warned the dog meat could be infected and poses a health risk because of the lack of official quarantines and inspections.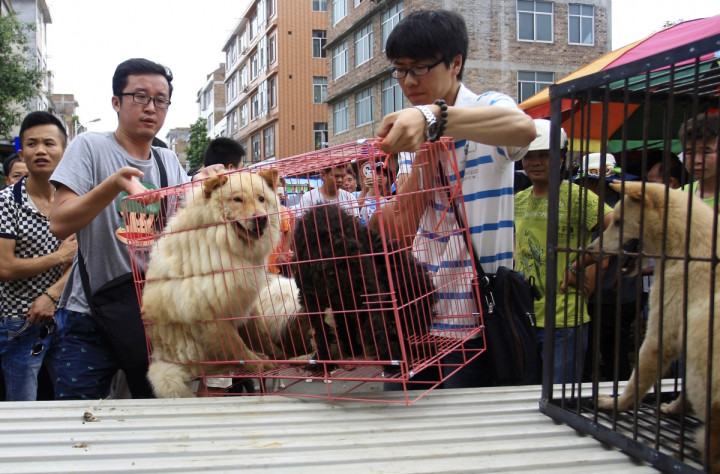 While many locals have said it is their right to hold the event – there is no law against eating dog meat – retailers said the national and international condemnation has led to fewer people celebrating.
"My grandfather, my father and I all sell dog meat. I could sell dozens of dogs a day last year during this time, but I only sold a few this year," one of the retailers said.
The protesting comes as a petition signed by 10,000 people was delivered to the Chinese government calling for the Yulin dog meat festival to be banned.
Humane Society International UK delivered the petition to the Chinese Ambassador in London.
In a letter, also sent to Chinese ambassadors in the US, Canada, Yulin and Guangxi, said: "Since its inception in 2009, the Yulin mass dog slaughter for the summer solstice celebration has attracted worldwide criticism.
"Right now, dogs are being cruelly bound, confined, trucked and slaughtered over long distances. Mass transport, slaughter, and consumption of dog meat during the summer solstice are high-risk activities against which responsible governments must intervene."