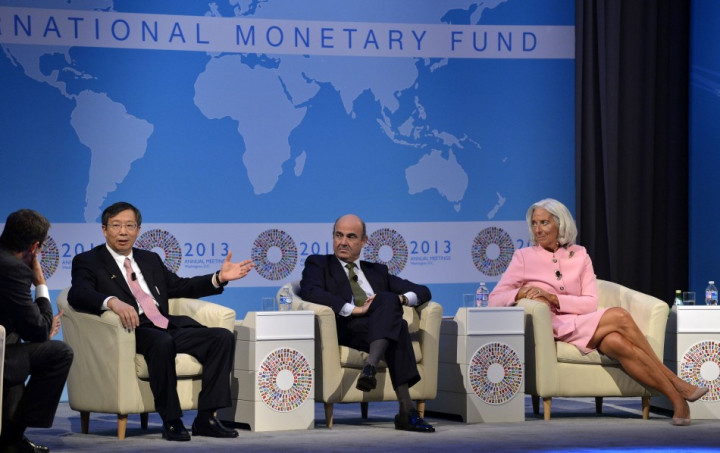 China's central bank suggested that the economy is stabilising after forecasting that the growth rate will exceed the official target of 7.5% for the fiscal year 2013.
"I think for this year we're going to have certainly above 7.5% growth rate, maybe 7.6% something like that," said Yi said, deputy governor of the People's Bank of China (PBOC), according to Chinese news agency Xinhua.
Speaking at an event hosted by the International Monetary Fund (IMF) in George Washington University, Yi added that the country has effectively tackled problems such as shadow banking and troublesome local government financial vehicles.
Yi noted that the Chinese economy is entering a phase of medium-to-high rate growth, expected at around 7% in the foreseeable future. While the pace is slower than the double-digits achieved in the past decade, it is still high from global standard, he added.
Slowdown Fears
China is currently the world's fastest-growing major economy with annual gross domestic product growth rates averaging 10% for the last 30 years.
However, China has also been impacted by the global economic crisis through its growing ties with the international markets.
Economic growth has slowed down in 11 of 14 previous quarters. In fiscal year 2012, the country's economy grew by just 7.7% in 2012, the slowest pace in 13 years.
The economy grew 7.5% in the second quarter compared with a year earlier, slowing from 7.7% in the first three months of 2013.
However, it rebounded with robust economic data for the third quarter. China's manufacturing and services sectors expanded in the third quarter, due to improved external and domestic demand.
China is slated to release its third-quarter gross domestic product data on 18 October. Analysts polled by Reuters expect growth to quicken to 7.8% from a year ago.
Stable Global Economy
Yi asked the US Federal Reserve to conduct an orderly communicated tapering of its stimulus programme to avoid any further shocks to the global economy. He added that a robust economic recovery in developed nations as well as free trade and investment environment is necessary for China's sustainable growth.
He also urged US politicians to deal with the federal government shutdown and debt-ceiling issues as soon as possible.
"The market doesn't like uncertainty. We watch this drama very closely," Yi said. "I think they should have the wisdom to solve this problem as soon as possible."
READ MORE:
Chinese Premier Li Keqiang: China Growth Can Exceed 7.5% in First Nine Months