Police in China have said the prime suspect in a case where a six-year-old boy was drugged and had his eyes gouged out is the victim's aunt.
Guo Bin had been playing outside his home in Fenxi county in the northern province of Shanxi when he disappeared. Four hours later he was found drugged, his face covered in blood and his eyes gouged out.
His father told Shanxi Television: "We didn't notice his eyes were gone when we discovered him. We thought he fell down from high and smashed his face.
"He had blood all over his face. His eyelids were turned inside out. And inside, his eyeballs were not there."
AFP said his eyes were found nearby but the corneas - used in transplants - had been removed. Authorities initially believed he had been the victim of an organ trafficker, as children's organs are more expensive on the black market with people believing they are of a better quality.
However, a later report said the corneas had not been removed.
According to the Xinhua news agency, police now believe he was attacked by his aunt, Zhang Huiying, the wife of the boy's father's older brother.
However, she died six days after the attack after jumping down a well in Qiaojiazhuang Village in Fenxi County.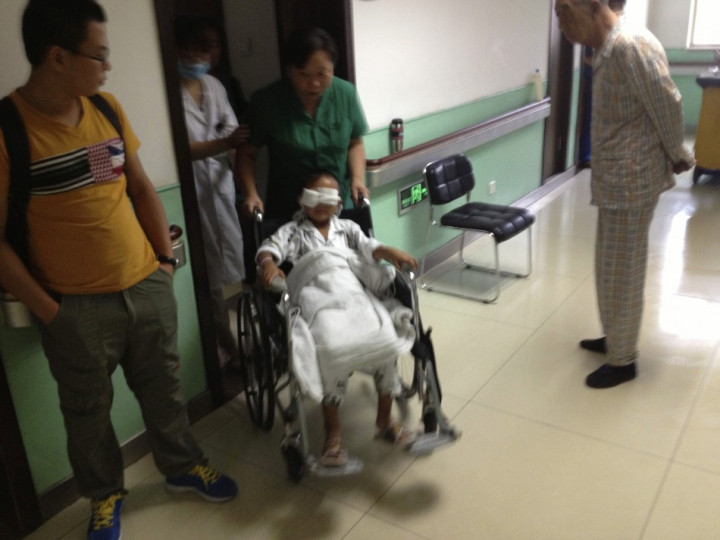 Police in the city of Linfen said DNA tests showed the blood found on Zhang's clothes matched Guo's.
Some reports suggested the aunt had argued with Guo's parents about how much they should contribute towards the care of the boy's paralysed grandfather, but his mother dismissed this claim.
"There was no dispute between us and the aunt. I have heard that someone said we had a dispute over taking care of the grandfather, but that is just a lie," she said.
Wang Wenjun, one of the boy's uncles, said Zhang may have been suffering from a mental illness, adding he did not know why she had taken her own life.
Following the attack, a leading eye expert from Hong Kong offered to treat Guo for free. According to the South China Morning Post, they plan to install electronic eyes that will help him see light and shapes through signals sent to his optic nerves.
A doctor treating Guo added: "He is a very brave boy."
His mother added: "He talks to me, and he plays with toys that people have sent him. He still doesn't know that he likely will be blind the rest of his life."
The Samaritans provides a free support service for those who need to talk to someone. They can be contacted through their website or on 08457 90 90 90, 24 hours a day, 365 days a year. Call charges apply.