As Japan's second big helicopter destroyer entered service to sail through the South China Sea, it has been warned by China against triggering tensions in the disputed waterway.
The destroyer termed 'Kaga' went into operation on 22 March, giving Japan's military greater strength to deploy carriers beyond its territories and shores to curb China's growing influence in the region.
The 248-metre (814 ft) long carrier can reportedly carry up to 28 aircraft, including helicopters, in what is thought to be Japan's biggest show of naval power in foreign waters in more than seven decades.
In response to the deployment, Chinese foreign ministry spokesperson Hua Chunying said: "Japan should learn lessons from history."
"The Kaga was sunk by US forces during World War Two. I hope the recurrence of the Kaga is not the start of the revival of Japanese militarism," Hua said during his daily news briefing.
"Japan cannot represent the international community. With joint efforts from China and Asean [Association of Southeast Asian Nation] countries, we can see the current situation in the South China Sea is becoming stable and is improving. If anyone from the Japanese side wants to make waves, I don't believe China or [other] Asian countries will approve," Reuters cited Hua as saying.
The Kaga carriers will be involved in searching for Chinese submarines and is thought to have been docked next to its sister ship - the 'Izumo' - in Yokohama near Tokyo, the news agency reported. Izumo is likely to be dispatched in May for a three-month-long tour through the disputed South China Sea.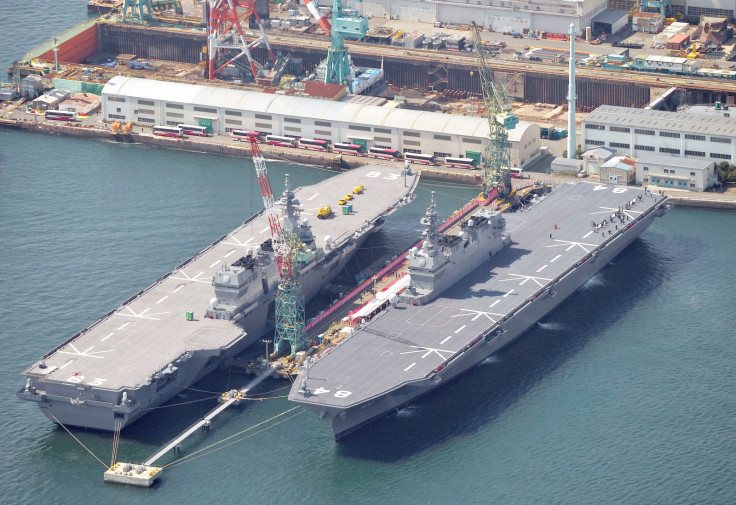 Japan's move to send Kaga is in response to China's growing assertiveness in the region, which has raised security concerns among the international community, Japanese Vice Minister of Defence Takayuki Kobayashi said.
According to reports, the addition of Kaga to Japan's Maritime Self Defence Force will now enable the country's military to play a greater international role. It will be based in Kure in western Japan, which was once home to Japan's famous battleship, the Yamato, from the World War II period.