China's foreign ministry has warned that the US's interference in its territorial dispute with Japan over the East China Sea is putting regional stability at risk. Its comments have come after US defence chief James Mattis reiterated his country's commitment to defend Japan's territories in the disputed islands "for years to come".
Chinese Foreign Ministry spokesman Lu Kang said on Saturday (4 February) that the US should avoid discussing the issue. He reasserted China's claim of sovereignty over the tiny uninhabited islands, which Japan refers to as Senkaku and China as Diaoyu.
Lu said, the 1960 US-Japan treaty is "a product of the Cold War, which should not impair China's territorial sovereignty and legitimate rights", AP reported.
He added: "We urge the US side to take a responsible attitude, stop making wrong remarks on the issue involving the Diaoyu island's sovereignty, and avoid making the issue more complicated and bringing instability to the regional situation."
Mattis' comments during his first visit to Asia as a Trump official has triggered China's anger as he stated in Tokyo that the new government would follow the previous US stance on the US-Japan security deal.
"The U.S.-Japan alliance is critical to ensuring that this region remains safe and secure — not just now, but for years to come," Mattis said during a joint news conference with Japanese Defense Minister Tomomi Inada on Saturday.
However, he also signalled that Japan should do more.
"But make no mistake: in my meetings with Japanese leaders, both our nations recognise that we must not be found complacent in the face of the emerging challenges we face. As our alliance grows, it will be important for both our nations to continue investing in our defence personnel and capabilities," Mattis added.
He reaffirmed that North Korea's nuclear and missile threats, as well as China's military aggression in the hotly contested international waterways, would not leave any room to doubt US' commitment to Japan's defence. It resonated with his message to South Korea that the Pentagon would continue offering support by installing the Terminal High-Altitude Area Defense (Thaad).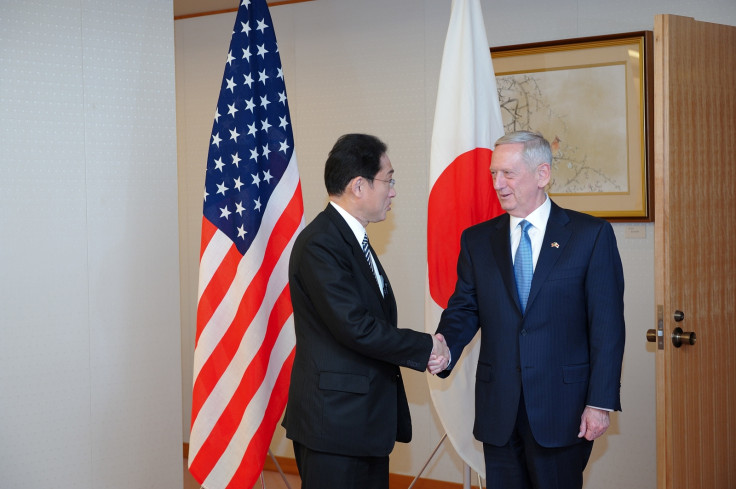 China raised objection to the missile system saying its powerful radar would allow it to peer deep into the northeastern part of the country, possibly allowing the system to monitor Chinese military movements.
Meanwhile, the US defence chief also played down any need for major military moves in the South China Sea to contain China's assertive behaviour.
"What we have to do is exhaust all efforts, diplomatic efforts, to try to resolve this properly, maintaining open lines of communication," Reuters cited Mattis as saying. "And certainly our military stance should be one that reinforces our diplomats in this regard. But there is no need right now at this time for military manoeuvres or something like that, that would solve something that's best solved by the diplomats."
However, he criticised China for "shredding the trust of nations in the region".