As China is finishing the construction of its second aircraft carrier, it is reportedly building a third one that is likely to be based on US models. China is also planning to build five or six such aircraft carriers as it seeks to reinforce its claims in the disputed territories of the South China Sea, experts have said.
According to the Global Times, the newest aircraft carrier with the class name Type 002, which is being built in Shanghai, is likely to feature catapult technology that will allow jets with heavier load and endurance to be launched from it.
"In other words, 002 is entirely different from the Liaoning [001] and 001A [the second aircraft carrier], and it will look like a US aircraft carrier rather than a Russian one," Li Jie, a naval military expert, said.
The third aircraft carrier is the latest in Beijing's ambitious warship programme that includes building at least two such ships to counter the US Navy in the Asia-Pacific region. The Chinese navy is currently operating its first aircraft carrier, Liaoning, which was a refitted Soviet-era warship.
The second one that is on the verge of completion is also based on the same model but has more advanced features. The second one is said to be China's first home-made vessel and is expected to officially join the navy in 2019.
Yin Zhuo, a senior researcher at the PLA Navy Equipment Research Centre, said China is building its third aircraft carrier "in order to protect China's territories and overseas interests".
"China needs two carrier strike groups in the West Pacific Ocean and two in the Indian Ocean. So we need at least five to six aircraft carriers," the Communist Party mouthpiece cited him as saying.
The Chinese media have in the past reported about the possibility of a third aircraft carrier but it is the first time it has officially said it was being built.
The second aircraft carrier has already raised tensions as it is speculated to be based near the disputed South China Sea, which has been the source of friction between Beijing and the US and its regional allies. The carrier is being built at the port of Dalian but China is yet to officially announce a home for it.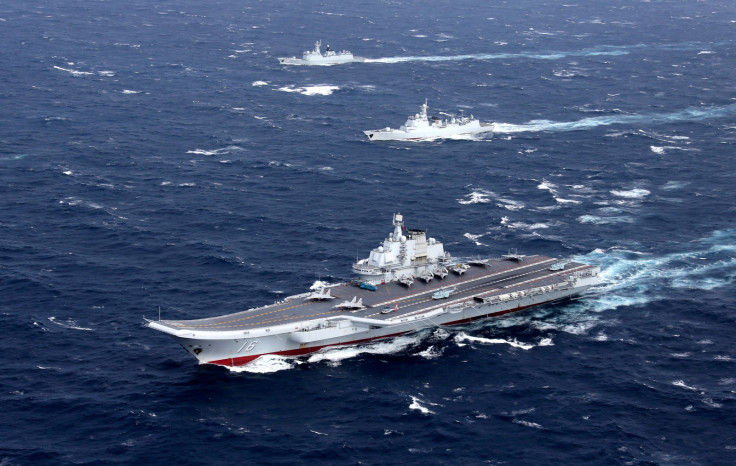 The report about the Type 002 construction came two days after the US Navy deployed its aircraft carriers in the hotly contest waters in a challenge to Beijing's claims.
The US on 19 February said an aircraft carrier strike group had begun what it calls "routine operations" in the mineral-rich international waterway. The group led by the Nimitz-class USS Carl Vinson kicked off its patrol with support from a fleet of warships, a move that raised further tensions between China and the US.
The development also comes within days of a warning from Beijing not to interfere with Chinese sovereignty in the region.