The owner of a gypsum mine that suffered a deadly collapse in eastern China on 25 December has killed himself, state media report. Ma Congbo, chairman of the Yurong Commerce and Trade Limited Company, apparently jumped into a mine well and drowned while he was assisting with rescue efforts in the early hours of 27 December.
Some 29 workers were stranded when the mine in the Pingyi county of Shandong province caved in. One person died in the accident while four workers managed to escape. Rescue workers have pulled seven more to safety since then but 17 remain trapped, according to Xinhua.
Gypsum is a soft, white rock and is the main constituent in many forms of plaster and chalk. Zhang Shuping, mayor of nearly Linyi city, told the news agency that more than 700 emergency personnel were involved in rescue efforts.
Rescuers have drilled a hole to the location where the miners are trapped and are attempting to transfer food and water to them, Xinhua said. The cause of the collapse is not yet known.
Dubious safety standards
Mining accidents caused by a lack of adequate safety standards are not uncommon in China, the world's largest producer of coal and minerals such as aluminium, iron ore, tin and zinc. Beijing reported 931 colliery fatalities last year, down from the 1,049 death toll recorded in 2013.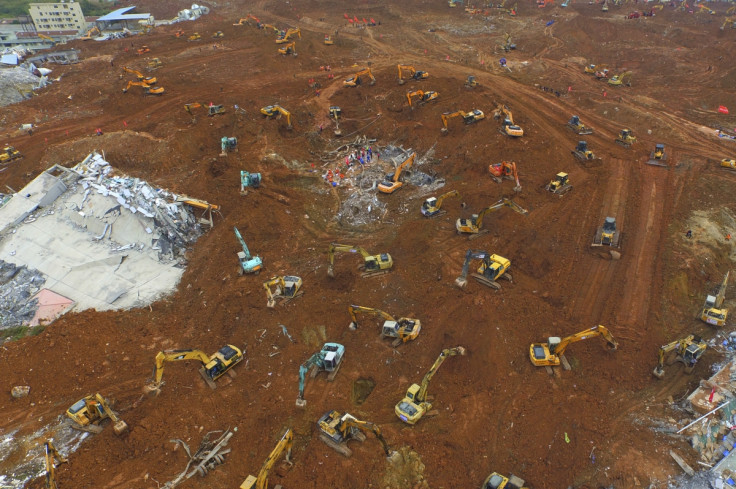 On 20 December a landslide buried 33 buildings at an industrial park in the southern city of Shenzhen, trapping 80 workers. Only one person has been rescued so far and four bodies recovered, with the rest presumed dead.
The Chinese government said the disaster was the result of too much waste material being dumped into a landfill rather than a natural geological movement. "The investigation will start immediately. Those held accountable will be seriously punished in accordance with the law," a state cabinet statement said on 26 December.