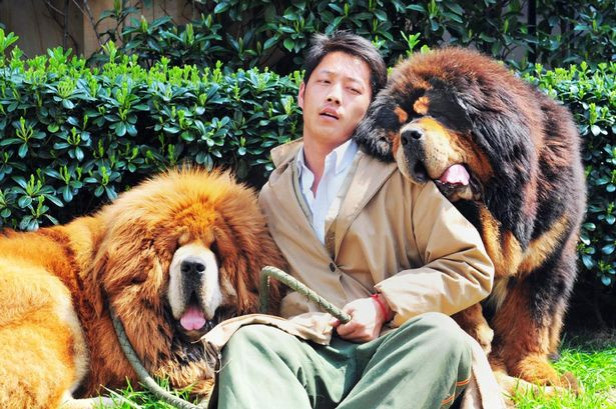 An animal lover has shelled out a record-breaking £1.2million (12million yuan) to buy the world's most expensive dog.
The unidentified property developer paid the hefty sum for the golden Tibetan mastiff at a luxury pet fair in China.
Another red-haired mastiff was sold for £600,000 at the same pet fair.
According to Qianjiang Evening News, the enormous one-year-old pooch weighs 90kg (14stone) and stands 32in tall.
Tibetan Mastiffs, affectionately dubbed 'big dog' are considered a status symbol in East Asian nations, with many believing that the mongrels bring good luck and prosperity.
"They have lion's blood and are top-of-the-range mastiff studs," the dog's breeder Zhang Gengyun said.
"Pure Tibetan mastiffs are very rare, just like our nationally treasured pandas, so the prices are high."
The purchase has surpassed the £971,000 paid by a Chinese coal baron for a red-haired Tibetan Mastiff call Bug Splash back in 2011.