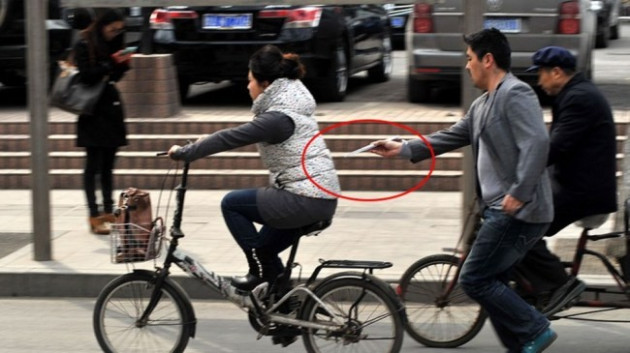 A cunning pickpocket is facing prosecution after he was caught on film stealing a woman's mobile phone using a pair of chopsticks.
Wang Hongbo of Zhengzhou in China's Henan province was captured lifting the gadget from the pocket of the unsuspecting cyclist with the sticks as she rode by.
The light-fingered thief was later spotted examining the phone in a back street before selling it to a secondhand shop.
The 32-year-old thought he had got away scot-free until a passer-by, who photographer the whole incident, posted the incriminating pictures online.
Hongbo handed himself in to police after an internet and print campaign was set up to identify him and bring him to justice.
It was the latest of a spate of chopsticks robberies in several Chinese cities.
In January, footage emerged online of two brazen thieves' pickpocketing unwitting shoppers using chopsticks.
An onlooker said: "It's so obvious what the gang are doing but no one does anything.
"This gang know exactly what they are doing and are highly skilled.
"By using chopsticks they avoid getting caught with their hands in the victim's pockets and don't leave finger-prints on stolen property."