China : Police Rescue 11 Babies and Make 32 Arrests in Child Trafficking Raid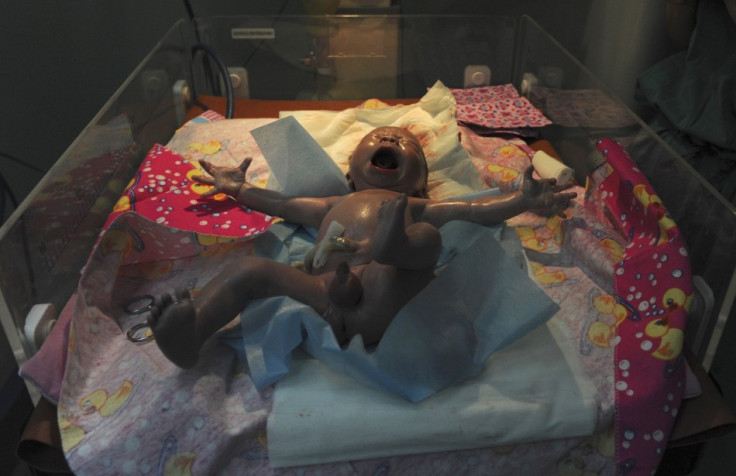 At least 32 Chinese have been arrested in a police raid on a child trafficking ring.
The arrests came as police launched an investigation after 21 babies were kidnapped or sold into the hands of traffickers in the city of Kunming, capital of Yunnan Province, local media said.
A public appeal was also launched to find the parents of 11 of the infants who were saved from the ring.
Investigations started last August after a couple with a "non-local accent" was spotted with a baby in Kunming.
When police questioned the two, they admitted to having bought the baby from traffickers.
"By the early investigation, we identified a man with surname 'Gong' and a woman with surname 'Du' as middlemen," Liang Yong, of the Kiayuan police department said.
Police admitted that in some cases the babies are sold to traffickers by the parents.
"They [the middlemen] bought and hired young women to buy babies from remote villages in Wenshan and Gejiu, and sold them to Shandong, Fujian and Henan provinces," Yong said.
Families willing to sell their babies were paid 10,000 yuan (£1,033), and the infants were sold for up to 140,000 yuan (£7,685).
Du and Gong were among the 32 people arrested.
There are no official statistics of child trafficking in China. The government, however, acknowledged the existence of the problem.
In 2012, police pledged to halt child trafficking in the country, after at least 800 people were arrested in an operation that rescued 181 children.
"We have zero tolerance when it comes to child trafficking and will make the utmost efforts to make sure that every trafficker is caught," Chen Shiqu, director of the Ministry of Public Security's anti-human trafficking office, said in a statement.
China has also a high incidence of child abandonment, which has prompted authorities to open baby hatches across the country to allow parents to leave unwanted children.
In March 2014, authorities were forced to close a baby hatch in Guangzhou, capital of Guangdong, after a dramatic increase in the number of abandoned babies.
Since it had opened on 28 January 2014, the baby hatch received 262 abandoned babies.
There was a similar occurrence at the Jinan Orphanage, eastern China, which received 106 children in just 11 days, since its opening on 1 June.
Unicef said there were around 712,000 orphans in China in 2010 - the latest statistic available - but child welfare groups believed the number could be much bigger.
© Copyright IBTimes 2023. All rights reserved.