China spends £800m to create copycat version of Venice
China has spent ¥8bn (£800m, $1.26bm) building its own version of Venice – complete with canals and gondolas. The new development in the northeast Chinese port city of Dalian is attracting thousands of tourists, many of them queuing for a ride in a gondola.
"This is a good thing. This is an opportunity for people who could not go abroad to enjoy the same scenery as that in foreign countries, and expand their visions to know more about foreign customs and practices. This is really good," says Zhang, a resident of Dalian.
Construction started in 2011 with the new city now covering more than 400 000 square meters - a pleasant blend of natural scenery and classical western architecture.
"Nowadays, cement and buildings shaped like geometric blocks are everywhere, and there is little chance to see water, mountains or even nature. There's too little of these. This is pretty natural, and I feel comfortable," says Ding, a tourist from Harbin city.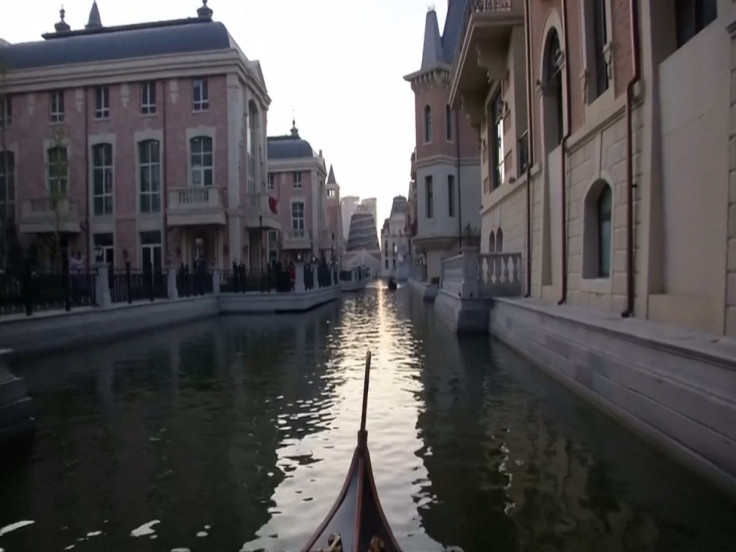 The city's designers boast that a 4km Venetian-style canal has been constructed. At present, however, only a small portion of the canal remains open to gondola rides.
"We took the architecture from Venice and France as blueprints. We channelled sea water to the 4km-long canal to create what is for China an unprecedented kingdom on the ocean and architectural complex," says Yan Wei, the vice-general manager of the Dalian District Corporation.
This is not the first time western landmarks have turned up in China. In 2007, Shanghai built its own "mini Paris" complete with a small-scale Eiffel Tower, and in 2012 complete replica of an Austrian village was built in Guangdong.
While pale imitations of the real thing, some Chinese tourists will no doubt be delighted that they can now enjoy the European experience without ever having to leave Asia.
© Copyright IBTimes 2023. All rights reserved.