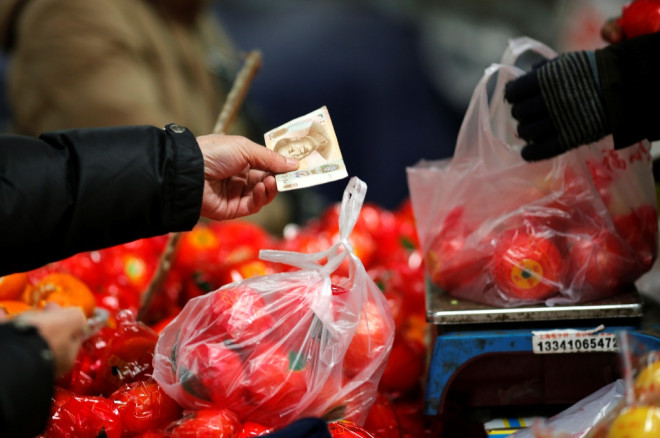 China's consumer inflation rate climbed in March as fresh food prices surged.
The consumer price index (CPI) rose 2.4% in March from a year ago, government data showed on 11 April. The latest increase came in just below expectations, after rising 2% in February.
However, unrelenting deflation in China's industrial sector suggests that the world's second-largest economy is losing momentum.
China will put out first-quarter growth data on 16 April and a Reuters poll forecasts annual economic growth could have slowed to a five-year low of 7.3%, from 7.7% at the end of 2013.
Surging Food Prices
Fresh food prices were a major contributor, with fruit prices surging 17.3% year-on-year and vegetables jumping 12.9%. Pork prices, however, dropped 6.7% year-on-year in March.
Meanwhile, producer prices fell for the 25th consecutive month, dropping 2.3% year-on-year, slightly more than expected.
Barclays economists said in a note to clients: "Overall, we expect inflation pressures to remain benign amid tepid domestic demand."
"The lingering deflation trend in the PPI seems more worrying, as it reflects structural overcapacity in a number of sectors as well as the cyclical downturn in the industrial sector," said Haibin Zhu, JP Morgan's chief China economist.
"Inflation is unlikely to become a priority policy concern in the near term," Haibin told Reuters.
Bill Adams, senior international economist for PNC Financial Services said in a note: "Chinese CPI inflation was a moderate 2.4% in March 2014 in year-ago terms. Mirroring trends in the US and Europe, the past twelve months' decline in oil prices is passing through into lower measured CPI inflation in early 2014.
"With inflation running at a comfortable margin below the government's 2014 goal of '3.5% give or take,' the current environment in some ways serves as a litmus test for the government's commitment to allowing a more 'decisive' role for market forces in the economy - market forces would drive up the cost of scarce resources, raising CPI inflation."
"Will 2014 be a year in which the highly regulated components of the consumer basket, like healthcare or transit, are allowed to more closely reflect the degree to which demand exceeds supply? Shanghai's crackdown on market-based pricing for taxis at rush hour suggests not, but perhaps there will be surprises in the months ahead that weren't hinted at by the Premier's March NPC work report," Adams added.
The consumer price index rose 2.3% in the January to March quarter from a year ago, but was well below the government's 2014 target.