The People's Republic of China's Deputy Foreign Minister Liu Zhenmin said China will continue to build military facilities on artificial islands in the disputed South China Sea. He also criticised the US for patrolling the area, accusing the Western superpower of provoking the country.
This time, in a very high profile manner, the US sent military vessels within 12 nautical miles of China's islands and reefs," Liu who was attending the East Asia Summit in Kuala Lumpur, Malaysia's capital.
"This has gone beyond the scope of freedom of navigation. It is a political provocation and the purpose is to test China's response."
The US is defending its right to "freedom of navigation" in the area, with concerns in Washington that Beijing is attempting to militarise areas which it claims in the South China Sea. This was denied by China, saying the construction of artificial islands was to "provide public service" and assist ships and fishermen as well as participate in disaster relief efforts.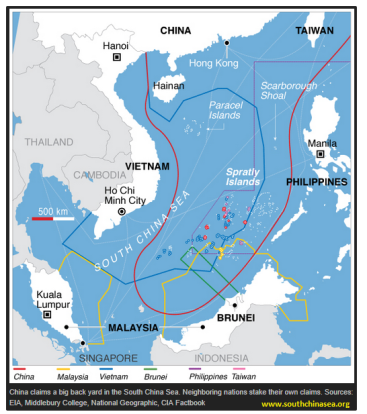 US president Obama who was also at the summit, called on countries to stop building artificial islands and militarising their claims, adding that the US would continue to assert its freedom of navigation rights in the sea.
Earlier in November, US B-52 bombers flew near some of the artificial islands and at the end of October, the USS Lassen, a guided-missile destroyer was sent inside a 12 nautical mile (22km) territorial limit around Subi Reef in the Spratly Islands archipelago, where China and the Philippines have competing claims.
The South China Sea is a key shipping route thought to hold significant oil and gas deposits. It is also rich in fishing and half of all world trade passes through its waters.
Zhenmin claims that out of around 1,000 islands, reefs and atolls in the sea, China has occupied only seven small islands and reefs in waters under its jurisdiction. The Chinese minister declined to name specific countries but accused three of occupying 42 "illegally." One of them, he said, controls 29, another one eight and the third country five, according to the Indian Express.
Japanese Prime Minister Shinzo Abe also voiced his concerns. "There is an ongoing large-scale and rapid reclamation project aimed at creating a base for military purposes", Abe said after the summit. "I am seriously concerned about the move to change the status quo."
Other countries which also claim parts of the area include Philippines, Malaysia, Taiwan, Vietnam and Brunei.
There are proposals to establish a "code of conduct" among the countries who have staked claims in the waterway but some sources see a large gap between the stalled diplomatic process and the "real situation out at sea," according to Vietnamese diplomat Le Luong Minh.