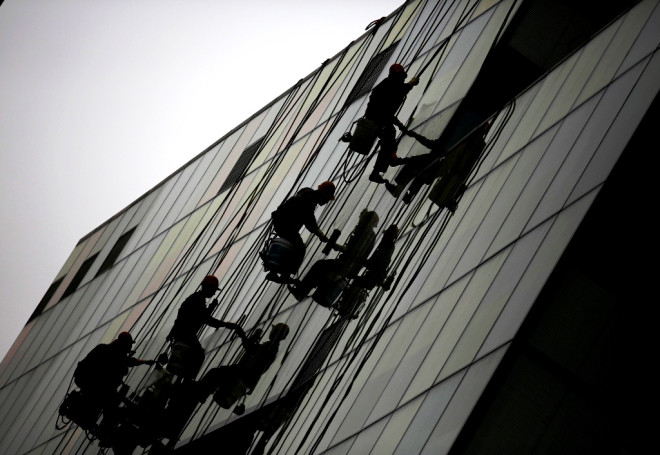 The world's second-largest economy expanded at its slowest pace in 18-months at the start of 2014, but logged some improvement in March, suggesting Beijing will not jump in to boost activity.
The Chinese economy grew 7.4% on an annual basis in the January-March quarter, the National Bureau of Statistics said on 16 April. A Reuters poll predicted a 7.3% growth rate for the first-quarter. The economy expanded 7.7% in the fourth-quarter of 2013.
The latest reading is China's slowest annual growth rate since the third-quarter of 2012, when the economy logged a 7.4% growth rate.
The government has so far ruled out a major stimulus to battle short-term dips in growth, suggesting the slowdown was an expected outcome of their reforms drive.
March Activity Data
Other data for March, released on 16 April, showed Beijing could be making some progress in its attempt to boost the role of consumption and wean the economy away from its dependence on exports and infrastructure investments.
Retail sales came in slightly ahead of forecasts, increasing 12.2% annually, while factory output came in just below expectations with an 8.8% increase.
The services sector, which includes retail, made up 49% of the gross domestic product in the first quarter, 4.1 percentage points more than the industrial sector.
"The slowdown of China's economy is a reflection of a transformation of the economic mode," said Sheng Laiyun, of the National Bureau of Statistics.
"There is no fundamental change in the improving trend of China's economy. The economy is still moving steadily towards the expected direction."
Analyst Take
UniCredit Research said in a note to clients: "Growth slowdown will not (and should not) overly alarm the Chinese government - especially as there are very early signs in recent data that rebalancing is underway. Private consumption held up pretty well and was "a decisive contributor to 1Q14 growth", while investment growth slowed markedly.
"Industrial production, the backbone of the Chinese growth model so far, is losing momentum, while services seem to be holding up better. And only [on 15 April], the PBoC released monetary data showing that M2 growth is now undershooting the official target, whereas "credit tapering" continues. Total social financing stock growth slowed further in March, with lending increasingly shifting from shadow banking to bank loans and from short-term to medium-term loans.
"Finally, efforts to deflate the housing bubble is also bearing first fruit, as underpinned by today's property investment growth data, the weakest since early 2009, while property sales and new property construction even fell substantially in 1Q14 - although one has to admit that the striking property slowdown increases the risk of (more) financial accidents in the sector, thus complicating the delicate (re)balancing act facing the Chinese authorities," UniCredit added.
Bill Adams, senior international economist for PNC Financial Services, said in a note: "...the current value of real GDP reached 12.8tn yuan [in the first-quarter], 7.9% more than the same period a year earlier.
"Headline fixed asset investment growth was very low by Chinese standards at 17.6% in year-ago terms in the first quarter, but much of this nominal slowdown is actually due to historically slow increases in investment good prices. Growth has slowed some, and inflation has slowed even more.
"Decent growth and muted inflation provide a green light for China's leadership to double down on its less expansionary credit and fiscal policies in 2014. The door is also wide open for opening state-controlled sectors to private investment, although it will be anything but simple for the Premier to walk through it," Adams said.
"With a decent first quarter taking some pressure off of the government to accelerate investment plans in the remainder of the year, the balance of risks for 2014's full-year GDP growth is little changed following today's numbers," he added.