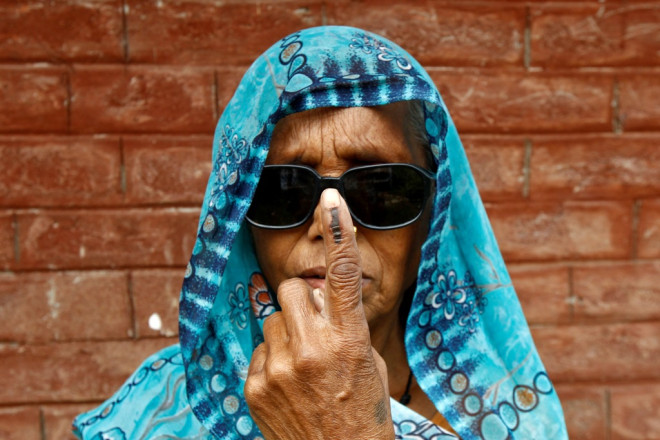 A bulk of chief financial officers from Asia's largest companies, with annual revenues of $1bn and above, believes that political change will help boost business opportunities in the region, rather than create risk.
According to Bank of America Merrill Lynch's benchmark 2014 CFO Outlook Asia report, which is an of an annual survey that combines the thoughts and insights of over 600 CFOs and other senior financial executives in Asia Pacific, only 13% of CFOs are worried that political change in their home countries this year will have a negative impact on their business.
Around 38% across Asia expect a positive impact while around 53% of CFOs are optimistic about the impact of elections in India.
"To a surprising degree CFOs in Asia see political change in 2014 less as a risk than an opportunity. Several major political shifts are afoot in the region, starting with the national elections in India this year. Indonesia faces a change of president," said the BAML report.
"China's government, meanwhile, is only a year into the term of the fifth generation of Communist Party leaders. The Bo Xilai scandal that culminated in a showcase trial in 2013 was the precursor of a thorough and on-going anti-corruption campaign, embroiling foreign and local companies alike."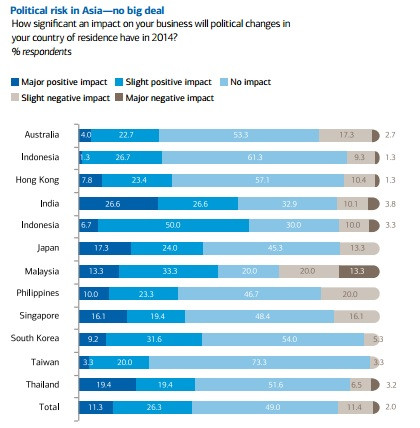 China
In China, around 89% of CFOs feel that political change will either have no impact (61%), slight positive impact (27%), or major positive impact (1%) on their businesses this year.
"The growth rates throughout Asia are still strong, despite some slowing, and have been for some time. This tends to take precedence over concerns about local market political risk," said Robert van der Zalm, CFO of Noble Group, a Hong Kong supply-chain solutions company.
"Remember that 7% growth in China now probably equates to 14% growth 10 years ago. That's massive."
India
The results in India reflect generally positive business opinion about this year's national election—with Narendra Modi, the front-runner to become prime minister, lauded for the economic achievements seen in Gujarat during his tenure as chief minister of the state," said the BAML report.
Meanwhile, optimism also surrounds the candidacy in Indonesia's presidential election of Jakarta's popular governor, Joko Widodo.
India's Central Statistics Office, meanwhile, projected that the nation's growth would hit a decade low of 4.5% for the fiscal year 2012-2013 ending in March, attributed partly to slowdowns in the construction and mining sectors.
Thailand
Thailand, meanwhile, is amid a fractious challenge to the nation's government that has been disrupting daily life in Bangkok for months.
In that country a full 90% believe that political change will have either no impact (52%), a slight positive impact (19%) or a major positive impact (19%) on their business this year.
"Perhaps most surprisingly just 20% of CFOs in Thailand believe political unrest is a primary operating risk," said BAML.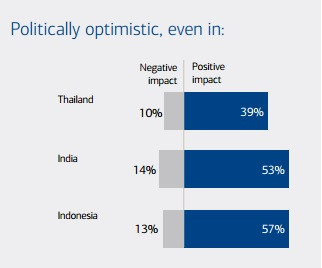 "The relatively tranquil result from Thailand (only the Australia and Taiwan responses were lower, at 12% and 17% respectively) comes in the face of declining GDP growth in 2013 largely due to civil unrest.
For the full year, GDP growth stood at 2.9%, according to the state planning agency. Growth in the final quarter of the year slowed to just 0.6% compared to the previous three months as anti-government protests intensified.
In contrast, GDP growth in Thailand for all of 2012 stood at 6.2%, despite continued recovery from devastating floods in late 2011.
Many multinationals in Thailand are sanguine about the domestic political environment, for the time being at least.
"We have a natural hedge against disruptions in Thailand because much of our business is overseas," said Krailuck Asawachatroj of Thoresen Thai Agencies.
"Since two of our major businesses are in energy and shipping, our receivables are primarily in US and Singapore dollars. Our exposure in Thai baht is limited."