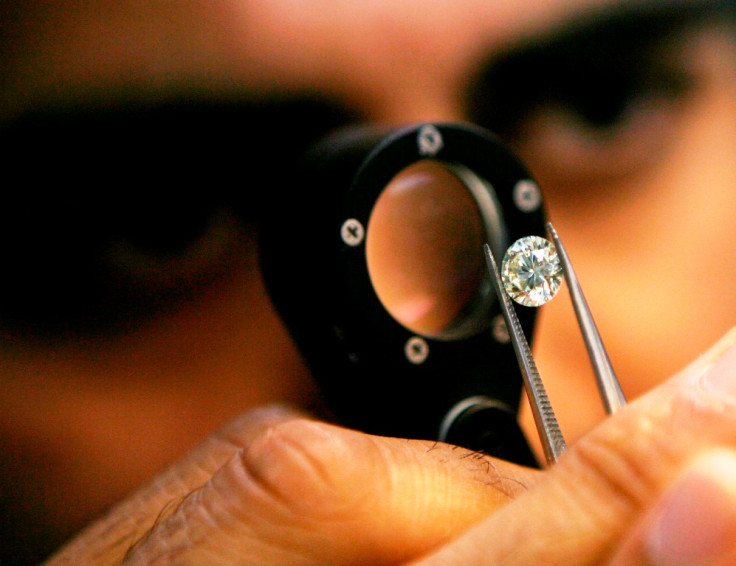 India's long-held position as the world's top diamond polisher is being tested by surging output from China.
China's share of the global polished diamond market has tripled to 17% over the past decade, according to United Nations data, while India's share has hovered between 19% and 31%.
That has forced the south Asian nation to seek help from old ally and top rough diamond supplier Russia to defend its market share.
China's rise
A majority of the world's diamond output is cut and polished in India before being sold globally.
The sub-continent banks on middlemen navigating the trading hubs of Antwerp, Tel Aviv and Dubai for its supply of rough diamonds, which mainly come from Russia or Africa.
But China has managed to dodge the time-honoured trade route by sourcing diamonds directly from African mines, in which Chinese firms hold a stake.
That move has given a boost to the value of China's net exports of polished diamonds by 72% over the past five years to $8.9bn. India's exports, supplied by firms such as Asian Star, Gitanjali Gems and Venus Jewel, rose 49% to $14bn over the same period.
India's advantage
Chinese activity poses no great threat to India's dominance right away: Even with gains in securing rough diamonds, China's cutting and polishing industry is not as organised as India's and rising labour costs can be problematic, Reuters reported.
Martin Rapaport, chairman of diamond and jewellery service firm Rapaport Group, told the news agency: "China is not going to displace India as the leading diamond polishing hub any time soon, but India needs to reform its archaic tax rules to make the Indian diamond polishing industry more attractive for foreign miners.
"The Chinese diamond polishing industry works on a contract-basis and through joint ventures. They are consistent at mass producing small stones, but lack the expertise required for bigger and finer stones."
Direct deals
Indian Prime Minister Narendra Modi, who hails from Gujarat where the polishing industry is centred, has convinced Russia to sell rough diamonds directly to India.
Earlier in the month, during President Vladimir Putin's visit to New Delhi, Russia's state-run diamond monopoly Alrosa inked a dozen deals to increase direct rough diamond deliveries to India.