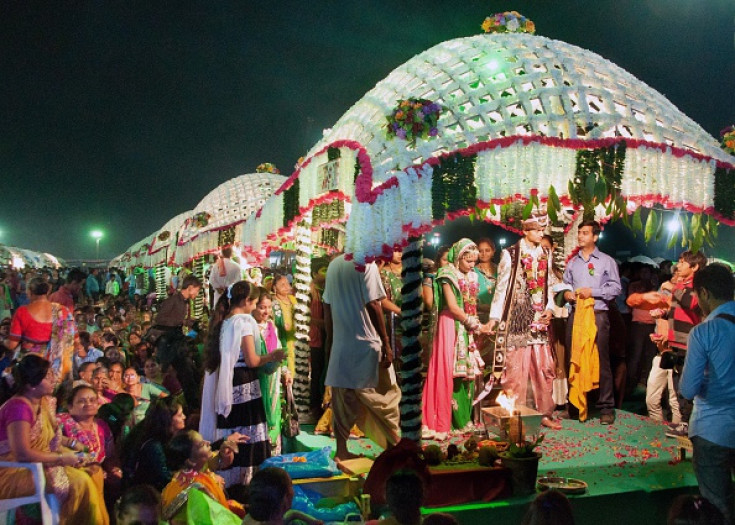 An Indian diamond trader has thrown a mass wedding for 111 fatherless women to help them start their new life, with lavish gifts included in the bargain.
Mahesh Savani hosted the event in a school in the city of Surat, in the western state of Gujarat, as the families of the women were too poor to afford a wedding celebration.
The 44-year-old businessman, who said the women saw him as a foster father, told news agency AFP that "material gifts are not important, but I have given my name to them and will fulfil all my responsibilities as a father of the bride for the rest of my life."
Savani gave each couple gifts worth up to 450,000 rupees (£4,600).
"We gave them gold and silver ornaments, utensils, electronics items, clothes and all the expenses related to marriage," he said.
This is not the first time that Savani has financed the wedding of poor women; in fact, he started this charitable work in 2007 and, to this date, has paid for the weddings of more than 250 women.
The tycoon explained he started helping disadvantaged women to get married after one of his colleagues died before he could marry off his two daughters.
"I was very shocked when one of my employees died just 12 days before he could marry off his two daughters. It was very difficult for the family to arrange for marriage," he said. "So I decided that I would become their foster father and marry them off. This is how it began."
Savani was quoted as saying in The Times of India: "I do not ask for any donations for the mass marriage. This is my endeavour, as there is nothing more pious than giving away a daughter in marriage."
One of the brides who benefited from Savani's gesture told the paper: "He is like a father not only to me but my brothers and sisters as well. I thank God for sending a person like him in my life."
Another woman, who also tied the knot thanks to Savani, said: "When we met Mahesh Savani, he came across as a fatherly figure. May Allah bless him with a long life for his acts of kindness."
According to a Twitter user, the girls were of all casts and religions.