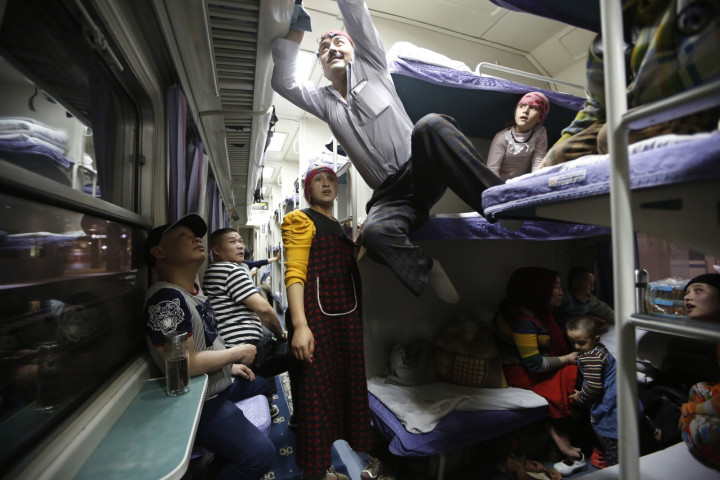 China has clamped a temporary ban on people wearing Islamic clothing or having a Muslim-style beard while travelling on public transport in Xinjiang, according to a report in the Karamay Daily newspaper.
The ban includes wearing hijabs, niqabs, burqas and any clothing with the Islamic crescent moon and star symbol, infuriating rights groups around the world.
The temporary restrictions have been put in place as part of security measures for the XUAR 13th Sport Games happening in the city. When the Games end on 20 August, the ban also come to an end.
Also banned on public transport during this period are "large beards", the paper said, adding: "Those who do not co-operate with inspection teams will be handled by police.
"The security measures will ensure social stability and protect the lives, property and safety of citizens of all races."
In July, Chinese authorities banned students and government staff in the region from taking part in Ramadan fasting.
The resource-rich Xinjiang region is much closer to central Asia than to Beijing and it has witnessed some bloody violence in recent months, for which the government has blamed the Uighur separatists.
Chinese authorities have blamed several deadly attacks that have happened to civilians outside the region in recent months on "terrorists" seeking independence for the region.
Meanwhile, rights groups have said that ongoing restrictions on Uighurs' religious and cultural freedoms have served to stoke tensions.
This latest ban has enraged right groups who have condemned the "discriminatory" treatment to the minority group.
The chief of US-based Uighur American Association Alim Seytoff said in a statement: "Officials in Karamay city are endorsing an openly racist and discriminatory policy aimed at ordinary Uighur people."
clashes between locals and security forces that have killed hundreds in the past year.