Tencent – the technology giant of China – has drawn criticism from all over the country after stickers, or memes that seemed to poke fun at the Second World War "comfort women" emerged on its social network platform.
The stickers on QZone were reportedly taken from Twenty-Two, a recent TV documentary about an estimated 200,000 Chinese women who were kidnapped and forced into prostitution by the Japanese army during the war. The documentary went on air on 14 August to coincide with the annual International Memorial Day for Comfort Women.
The stickers and memes have been used with captions like, "Speechless and choked up", "at a loss", and "I am wronged".
The stickers came to the notice of users around 20 August almost a week after the film was aired. They left the users of the QQ instant-messaging service furious and angry, who asked for an apology from the internet company.
Thousands took to the popular Sina Weibo micro blogging site to vent their fury. One user wrote: "What brutes produced these stickers? How would you feel if this was a member of your family? If it was your mother?"
Another added: "The people who made these stickers are heartless, using other people's pain for their own entertainment."
"I hope they [Tencent] issue a serious apology. This kind of thing is not 'entertainment'. Absolutely not," one user named Cherry_Tiffany said.
Tencent has since apologised and also removed all the offending emojis from the platform. "The incident has exposed shortcomings ... in terms of content examination and supervision," the company, which also operates WeChat, said in a statement. "We will carry out a review immediately," it added.
But the company said that the stickers were customised by another party, named Siyanhui Co that produces emojis for social media platforms.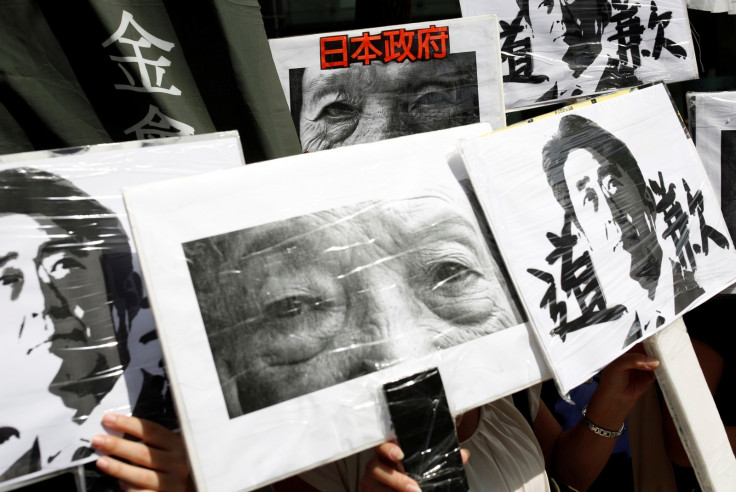 Some people seemed not happy with Tencent's explanation and said this appeared to be the company's government "propaganda" to push the show.
The documentary Twenty-Two was named after 22 surviving Chinese "comfort women". Now the number of the women has come down to eight, as the movie was held by Chinese authorities for two years before finally making it on to the screen in its home country.