Japan's ambassador to South Korea is set to return on Tuesday, 4 April, after a three-month gap in what is seen as a significant step in diplomatic reconciliation amid far-reaching political changes in Seoul.
The envoy was recalled in January after a diplomatic spat over the sensitive issue of sexual slavery of Korean women by Japan during World War II. South Korea and Japan, both close American allies, have had fractious relations historically over a multitude of issues including "comfort women".
Japanese Foreign Minister Fumio Kishida said ambassador Yasumasa Nagamine would be sent back in order to deal with the rapidly changing political situation in Seoul following the impeachment of former leader Park Geun-hye.
Nagamine was recalled by Tokyo after a local civic group erected a life-size bronze statue symbolising "comfort women" outside the Japanese diplomatic mission in South Korea's second largest city of Busan. Nagamine admitted the decision to send back its top diplomat took place without any credible breakthrough pertaining to the removal of the statue.
"As South Korea is in a political transition, we need to make thorough preparation for the creation of a new leadership, such as by ramping up efforts to collect relevant information," Kishida told reporters during a press conference.
Kishida added the Tokyo wants close ties with South Korea's new government in order to deal with the growing threats from North Korea, the common adversary of both Tokyo and Seoul. Tokyo's decision comes on the heels of a three-day naval joint exercise by the US, South Korea and Japan in a show of strength against Pyongyang.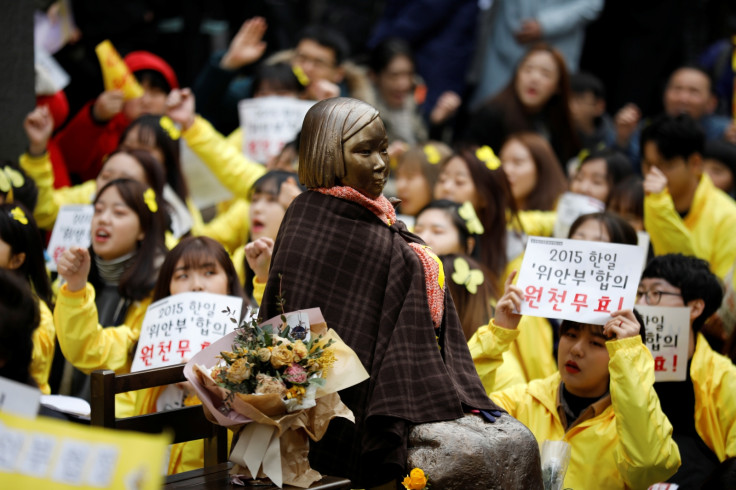 Alongside Nagamine, Consul-General Yasuhiro Morimoto will also be reinstated. "Even if South Korea experiences a change in its leadership, we believe the effectiveness of our deal still stands because it's a promise made between a state and a state, on the watch of the international community. It's imperative that we implement it sincerely," added Kishida.
South Korea is yet to respond to the latest development.