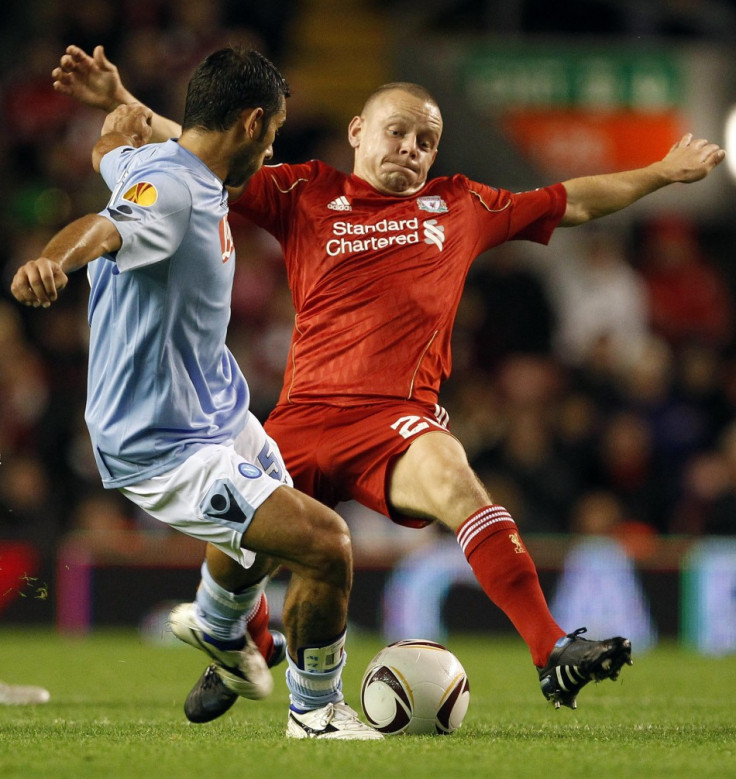 Liverpool midfielder Jay Spearing has told Kenny Dalglish he is more than capable of replacing the injured Lucas Leiva.
Liverpool suffered a major blow after the Brazilian international was ruled out for the remainder of the season following surgery on an anterior cruciate ligament injury.
The problematic absence of one of the club's most consistently impressive players over the last 18-months, has heightened reports of an active January transfer window for Liverpool, however Spearing is confident he has the ability to fill the void and is eager to stake a claim in Kenny Dalglish's side.
The young Englishman was thrust into Liverpool's starting XI for their recent defeat against Fulham but he was sent off during the match and was subsequently suspended. Although it was inevitably a setback, Spearing is eager to continue his development under Dalglish and is hoping for further opportunities to impress.
"The club is massive worldwide and the owners have come in and shown that they're going to back the manager." Spearing told Liverpool's official website.
"A club the size of this is always going to attract big players.
"It has always been my dream to play week in, week out (for Liverpool), so it's up to me to prove to the manager on a daily basis that when the transfer window does open and he has money at his disposal that he can look at a position like mine and think: 'There's no need to sign anyone there - we're pretty strong'."
Spearing's Liverpool career has been reignited following the arrival of Kenny Dalglish. The precocious youngster had initially looked on borrowed time under Roy Hodgson, but the 23-year-old has thrived in the faith shown in him by the Anfield chief.
"Kenny has given me a lot of confidence and has shown the faith that young local lads like me need to get a chance." The Liverpool midfielder said. "But half of it has to do with myself as well, the effort I put in day in, day out.
"There's a lot of stuff in training that not a lot of people see.
"It's the way I've been brought up because you don't get much from life without hard work."
The Liverpool youngster continued: "My dad said to me that I had to take each day as it comes and prove every single day that I was better than the last one. The only way that I was going to get games was by working harder than anybody else in training.
"I did not necessarily show that I was better than anybody else but prove that I could compete and not be overawed - to show them I'm up for the fight."
Although the injury sustained by the aforementioned Leiva was a massive blow given his superb start to the season, Liverpool hero Jamie Carragher recently suggested Spearing was more than capable of stepping into the breach.
"No-one will be worried one bit about putting Jay in there. He's proven before that he's more than good enough at this level and I'm sure he will prove it again." The Anfield stalwart told the Liverpool Echo.