Civil rights activist Reverend Jesse Jackson has told IBTimes UK that the Chicago Police Department can only be reformed with the intervention of the US government, as the city's force reels from both accusations of racism and controversy over a warehouse it uses for thousands of detentions.
A draft report released in April found nearly three quarters of people shot by the city's police between 2008 and 2015 were black. Adding fuel to the controversy, it emerged that more than 7,000 people, 80% of whom were black, were held for questioning at the city's Homan Square warehouse, where only 1% got access to an attorney.
Jackson said that: "We need to have government intervention. The whole system has to be undone and only the government can do that."
The task force report claimed a disproportionate use of tasers were used against African-Americans and that 72% of people stopped by Chicago police were black, concluding that there is "a long, sad history of death, false imprisonment...and general discontent about police actions in neighbourhoods of colour".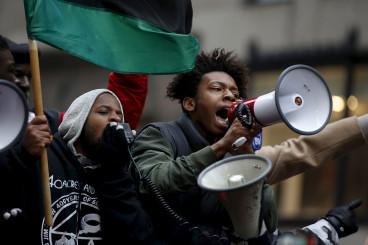 Speaking by phone on 20 April, Jackson told IBTimes UK: "It (the report) didn't surprise me but it verified through an independent study what I knew for a long time but is made more believable by a study of this magnitude. It shows a pattern across the years of excessive force and cover ups but the mayor's response to the report was somewhat cavalier."
Jackson refers to Rahm Emanuel, the former White House chief of staff, who set up the task force in the wake of controversy caused by the death of Laquan McDonald, a teenager shot in the back 16 times by white police officer Jason Van Dyke in 2014. Emanuel was criticised heavily for a delay in releasing the video of the death until after his re-election as mayor.
Jackson described a "compounded criminal system", stacked against black Americans, which included racial profiling and close relationships between the police, attorneys and judges. He said that filing a false police report, as happened in the McDonald case, should be made a felony.
"The criminal justice system has to become more transparent and fair. The cause of the crisis is poverty, and so we need targeted jobs, targeted scholarships and investment for youth and a policy that corresponds with the depth of the problem.
"We need an alternative to the criminal scene and poverty is part of the scene. Poverty is a weapon of mass destruction."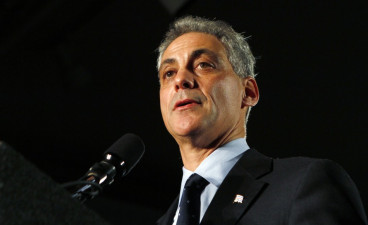 According to the Chicago Tribune, white police officers comprise around 52% of the city's force, the rest are black, Latino and Asian. The newspaper pointed out that since the McDonald case, Mayor Emanuel has pushed for the early release of police videos such as earlier in April when footage was released of Heribito Godinez, who died during a police arrest.
Since the McDonald incident and amid accusations of racial profiling, there has been an 86% drop in police stop and searches, which many say is for fear among police at becoming the next online viral video. This is being cited as being behind a rise in crime and people leaving the city.
In December 2015, Emanuel said the city will change police tactics and training to ease tension between residents and officers. He has also appointed Eddie Johnson as Chicago's police superintendent, who is well regarded among the city's black community.
However national director of the Black Youth Project 100, Charlene Carruthers, told IBTimes UK she doubts whether Johnson's position as the city's top cop can make a difference and said she hoped people could see past "the pony show that the mayor is pushing hard right now".
"I think you need to question how a city can change when you appoint a person who has helped shape and worked in that system for many years and they are a part of it. I don't believe a person who is a part of the machine can change it.
"When we have a total acknowledgement from the Chicago Police department of the violence they commit and the corruption they promote throughout the city will any level of trust be created," she said.