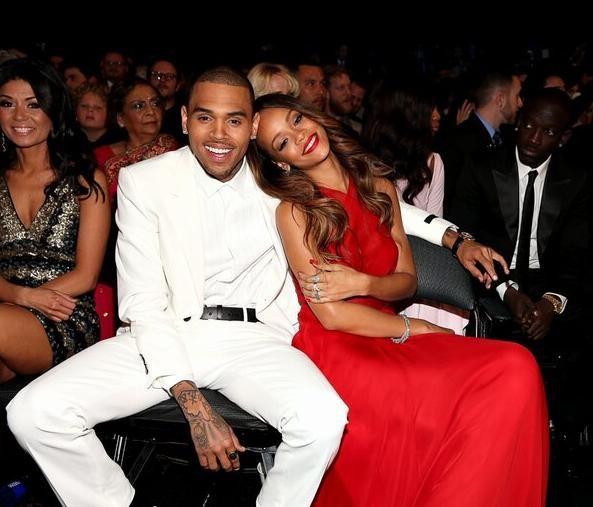 Chris Brown has been making headlines for his upcoming boxing match, but on Tuesday (10 January), the rapper decided to take some time off as he was spotted partying at Up & Down nightclub in New York City. Interestingly, Brown's ex-girlfriend Rihanna was also present at the same NYC nightclub, but she allegedly avoided the singer as he was with a mystery woman.
"She saw him, she made sure to get a few looks from across the way at him and thought he looked cute," a source close to the Barbadian singer told Hollywood Life.
"Her friends were pushing her to go and talk to him and say hello but he was with another girl and with his friends and she didn't want to cause a crazy scene."
The glamorous diva that she is, Rihanna cut a classy figure in her green snake-print jacket that went all the way down to her knee. Underneath, the Work songstress was rocking an athleisure look in pink pants and a hoodie. She completed her casual look with a pair of strappy heels, showing off her ankle tattoo.
Brown, on the other hand, wore a camouflage jacket as he strode out hand-in-hand with his female companion. According to a gossip report, the mystery woman with the Loyal singer was his friend Vanessa Vargas, who flaunted her legs in a printed hoodie at the NYC spot.
While the former couple, who broke up following Brown's abusive behaviour, avoided an awkward run-in, there seemed to have been some vibes between the two, according to reports.
"[Rihanna's] sure that he saw her too," the source claimed, adding "She was feeling herself and looking damn good too and she knows how Chris is. But as far as trying to connect and say what's up to one another, it just wasn't the night."
This comes after reports that the 28-year-old songstress has been leaning on her ex-boyfriend Brown after her recent split from Drake. "Chris knows he's still on Ri's mind. And he still loves her dearly. Chris doesn't believe for a second that romance and intimate relationship with Rihanna is over for good. It's just a matter of time," Hollywood Life reported in October.
Brown and Rihanna used to date each other until a violent incident in 2009. After spending some time on and off, the couple finally split in 2013.