Chris Evans has revealed that hosting Top Gear is "without doubt, the most challenging thing [he's] ever done in [his] career," and that he almost ruled himself out as presenter because of all the controversy surrounding the job.
The 49-year-old was confirmed as the next host of the popular motoring show, taking over from frontman Jeremy Clarkson who was axed earlier this year, after he physically fought with producer Oisin Tymon. Co-hosts Richard Hammond and James May swiftly followed suit as they stated they would not return to the show without Clarkson, leaving the BBC no choice but to hire new names to fill their places.
Speaking to Top Gear magazine, Evans spoke of the pressure he feels about taking over such a well-loved show, and likened the daunting task to another long-running BBC show. "There have been 34 presenters before me, so it's a bit like Doctor Who.
"When I took over Terry Wogan's Radio 2 show, people kept saying I had 'big shoes to fill' and they're saying it again now. By the way, Jeremy is very tall, so they're even bigger shoes."
As well as commenting on the nerves he feels about taking on Clarkson's old job, Evans also disclosed that he was very close to turning the job down.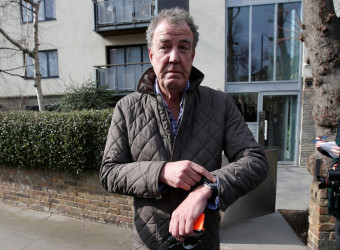 "I honestly didn't think I'd get the phone call – I was amazed that I did, to be honest," he said. "I ruled myself out because I didn't want to be part of all the nonsense that was going on. But then the situation changed, and I wasn't stepping on anybody's graves or toes.
"I was actually in the middle of preparing for TFI Friday and I talked to Will [Macdonald from the Channel 4 show] and he said: 'Why would you not do this?'
And that's the question. It wasn't: 'Why would you do it?' but 'Why wouldn't you?' If I make television programmes for a living and love motor cars and love the biggest challenge in the world, why wouldn't I do it?"
Fans of the show have been worried about its new direction and how much it is going to differ from the programme we saw with the previous trio, but Evans assures them that every change will be beneficial to its general outcome and they won't change anything unless necessary. "Nothing has to [change], but some things will. I can't tell you what precisely. But it would be silly to throw the baby out with the bathwater."
Since the announcement stating he was to be the new host of Top Gear was released, Evans has been in somewhat of a public feud with former presenter Clarkson, 55, stemming from when Clarkson claimed that a BBC executive had officially asked him whether he wanted to return or not, and he turned it down prior to it being offered to Evans.
When this was widely reported, Evans retaliated by saying: "Well, as to whether Jeremy was offered his old job back or not, either outside or inside his own head he still said no to the voices. Therefore, I shall continue my resurrection of the world's favourite television car show."
Traditionally, Top Gear is fronted by three presenters, and at the moment, no one has been named as Evans' co-hosts, however open auditions have been held to find candidates.