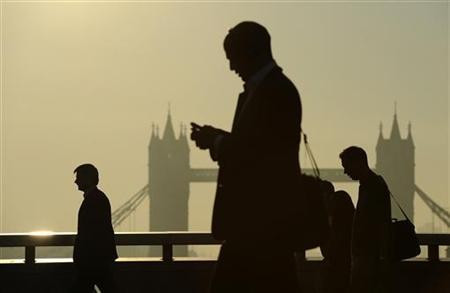 Britain's opposition Labour party is pushing for a number of amendments to the Banking Reform Bill, including whistleblower immunity and the creation of a new financial crimes unit, in a bid to prevent major scandals from reoccurring.
In light of a raft of financial scandals that have rocked the financial world in recent years, Labour is also calling for UK lawmakers to issue bankers' licences, in order to strengthen existing checks for those who want to work in the financial services industry.
"The Libor rigging and mis-selling scandals were not the product of one or two rogue individuals but fundamental failures of standards within the banks - and we need to raise professional integrity with a stronger licensing power as a result," says Labour MP for Nottingham East and Shadow Financial Secretary to the Treasury Chris Leslie, in an emailed statement to IBTimes UK.
Leslie will be addressing the Parliamentary Commission on Banking Standards on Tuesday with the raft for proposed amendments from Labour.
"Labour will push him to go much further today and deliver the change we need in our banking system including a licensing scheme for bankers and better protection for consumers," adds Leslie.
The UK's Financial Conduct Authority (FCA), previously the Financial Services Authority, has a "whistleblower programme", but has no reward system for information and various clauses in the law allow companies to skate around the "unfair dismissal" of an employee, as a result of whistleblowing.
However in the US, there are a number programmes, such as ones with the US Internal Revenue Service (IRS) and the Securities Exchange Commission (SEC) coupled with the protection through the Dodd-Frank Act, installed since 2010.
The programmes allow whistleblowers to not only be rewarded for information, depending on the significance of information and how much it results in recovery for the government or shareholders, but also protects them from employer retaliation, such as dismissal or being investigated themselves.
"When it comes to complex fraud, such as with UBS client tax evasion or Libor fixing, the only way prosecutors are able to have a solid lead and case, is when insiders come forward with the information," said one of the world's most prominent whistleblower attorneys, Reuben Guttman at law firm Grant & Eisenhofer to IBTimes UK.
"The reality is, the regulators do not have or will not have the resources to investigate and find these forms of information by themselves and many complex fraud cases can be prevented from becoming huge scandals at the detriment to the consumer, shareholder or government, if the right incentives are in place for people who risk their career and employer retaliation," he adds.
Leslie says "the fear and anxiety of reporting suspected breaches of financial regulations may have deterred bank staff from blowing the whistle, concerned they may lose their job or be victimised as a result."
"Labour's amendment would ensure that the 1996 Employment Rights Act also gives protections to employees who believe that a breach of regulated activities under the Financial Services and Markets Act 2000 or the Financial Services Act 2012 has been committed, is being committed, or is likely to be committed. We can't rely on regulators to constantly police the behaviour of the banks on a daily basis - which is why a strong message should be sent to bank staff that they can be protected if they think their employer is breaking the law," he adds.
Labour is looking for bankers to undergo even more stringent vetting systems, similar to that of doctors or lawyers, in order to work in the financial services industry and be "struck off" if they break the rules.
This month, IBTimes UK revealed that only a tiny percentage of applications from financial workers seeking regulatory approval to work in some of the industry's most risk-sensitive jobs have been rejected or withdrawn.
Since the onset of the financial crisis, only 30 applications for the FSA's Fit and Proper test for Approved Persons between 2007 and 31st December 2012 were formally rejected - out of a total of 227,000 - while 7,000 applications were withdrawn after submission.
Meanwhile, Labour is calling for a new financial crimes unit to exist within the Serious Fraud Office. The body already investigates and prosecutes, where necessary, on fraud, bribery, corruption and other criminal charges in the financial industry.
Related Articles:
Whistleblower Bounties Will Prevent Future Fraud and Scandals
British Bankers Fit and Proper: 97% Pass FSA Test
EXCLUSIVE: Labour's Shadow Financial Secretary to the Treasury on Mis-Selling Derivatives
EXCLUSIVE: Labour's Chris Leslie Pressures FSA's Wheatley over Mis-Selling Derivatives Bank Deal