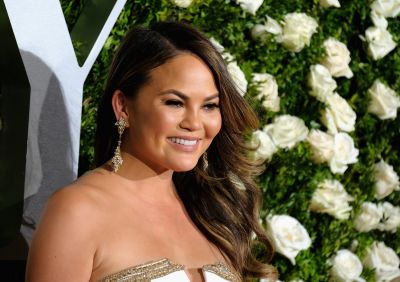 Chrissy Teigen, who once admitted she takes great "pride" in trolling President Donald Trump, has become the latest celebrity to get blocked from his Twitter account.
In recent years, the Sports Illustrated model has gone to great efforts to taunt the US leader through the social media platform but it seems Trump was finally pushed to his limit on 25 July.
Two days before she was barred from reading his tweets, Teigen, 31, told the president: "Lolllllll no one likes you," in response to one of his messages, which read: "It's very sad that Republicans, even some that were carried over the line on my back, do very little to protect their President."
Unfortunately for Teigen, her reign of Twitter terror has come to an abrupt end after learning she was blocked from Trump's account. The Lip Sync Battle host told her followers alongside a screenshot of the prohibited page: "After 9 years of hating Donald J Trump, telling him 'lol no one likes you' was the straw."
While Teigen's latest jibes clearly hit a nerve with the polarising POTUS, the model has certainly tweeted far worse in previous years. In 2011, Teigen told her followers: "Just realised I am at a Starbucks inside a trump building. I knew it smelled psychotic and racist here."
Referencing the thriller American Psycho, another scathing attack read: "Watching a cool Donald Trump biopic on the plane."
On another occasion in February, Trump stated: "We must keep 'evil' out of our country," which prompted Teigen to hit back: "What time should we call your Uber?"
Soon after that remark, Teigen, who is married to singer John Legend, explained her strong dislike for the Republican president. Speaking to USA Today Sports, Teigen said: "I've actually been a big Donald Trump hater for a long time. If you go back, I've been trolling him for about 5 to 7 years now. I've been doing this forever and I take pride in that.
"If you go back to my old ones [tweets] I was like: "You're the f*****g worst" many years ago. I can't believe somebody could actually do this all day, every day, and still be president. It's insane. I think he's the f*****g most vile person on this planet and if I mysteriously go missing in the next four years then that's what happened."
Teigen is in good company on Trump's Twitter blocked list as author Stephen King suffered the same treatment in June. Reacting to being shut out, the acclaimed novelist quipped: "Trump has blocked me from reading his tweets. I may have to kill myself."
Chrissy Teigen's greatest Donald Trump put-downs on Twitter