'Grow the f**k up': Trump blasted on Twitter by Chrissy Teigen as he rants about 'fake news joke'
'I've been trolling him for about 5 to 7 years now,' the Sports Illustrated model had said earlier.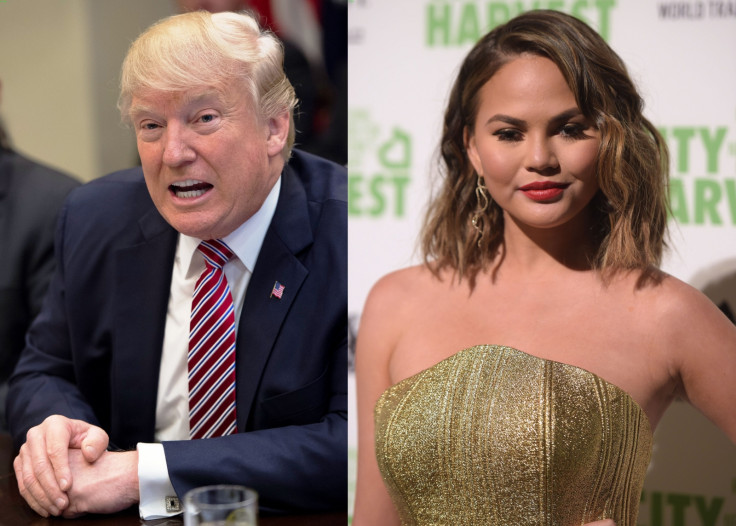 Chrissy Teigen, who is known to voice her disapproval for US President Donald Trump time and again, has once again lashed out at him on Twitter. The latest bashing from the supermodel came after the president criticised a New York Times article for not agreeing with his opinions on the health bill.
"You are 71 f*****g years old," the 31-year-old star tweeted on 28 June blasting Trump for condemning the newspaper article on Senate health care bill. "Grow. The f**k. Up," the better half of singer John Legend wrote.
The recently published report that drew Trump's ire talked about the Republican's stand on the health care bill.
And unfailingly, the 71-year-old leader used his favourite medium – Twitter – to call out the criticism and slam the news report as a "fake news joke".
"The failing @nytimes writes false story after false story about me," Trump tweeted adding, "They don't even call to verify the facts of a story. A Fake News Joke!"
Trump's strong reaction seems to have triggered a social media debate with Teigen leading the bandwagon in criticising him.
However, this is not the first time that the A-lister has spoken out her mind when it comes to Trump. Sharing her opinions like many other against the President's travel ban, Teigen had slammed him when a federal judge ruled the ban as unconstitutional.
In response to the president's tweet at the time, "We must keep 'evil' out of our country," the Sports Illustrated model had mockingly asked, "What time should we call your Uber?"
Teigen has been a self-proclaimed "Donald Trump hater" as she has admitted that she takes pride in trolling him. "I've been trolling him for about 5 to 7 years now," the cookbook author had told USA Today in February. "I've been doing this forever, and I take pride in that."
Sharing her piece of mind, Teigen added,"I can't believe that somebody could actually do this all day everyday and be president... If I mysteriously go missing in the next four years, that is what happened."
And, it looks like Teigen's Grammy-winning husband, John Legend, is in agreement with her on this. "Trump is our national embarrassment," the Beauty and the Beast singer had written in a post earlier this month.
© Copyright IBTimes 2023. All rights reserved.