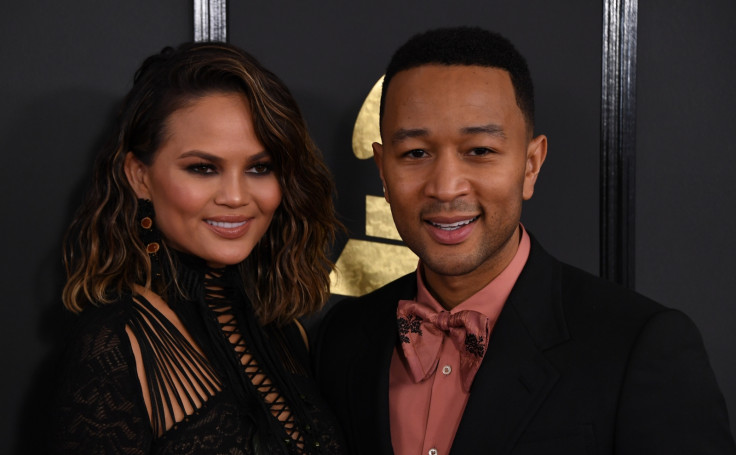 Chrissy Teigen surely knows how to travel and stay glamorous at the same time. She is currently enjoying a grand holiday with husband John Legend and daughter Luna. The model is constantly sharing images to make sure that her fans are not missing any moment from her Italian escapade.
Teigen shared a sexy picture of herself on Instagram where she can be seen posing in her hotel room while all dressed up for a date night with her singer husband. Teigen wore an eye-catching black mini-dress with a plunging deep V neck line that has her breasts almost spilling out of the dress.
"To the opera," she captioned the sultry image. Fans of the Sports Illustrated model couldn't stop gushing over the picture and complimented her radiant beauty by saying, "John Legend is one lucky man."
"Love how your spirit shines through when you're glam, smokin', or the just crazy lady next door with the really cute kid. You're still you. Not too many can translate that in pictures," one fan commented on the picture. "You are SO stunning! You make my heart ache," another praised her beauty.
As the mother-of-one posed on the balcony of the hotel room, some followers thought the dress might fall anytime. "Looks like it's gonna slip off," one speculated. "I don't even understand the physics of this dress," wrote another
The Lip-Sync Battle host also received criticism for her fashion choice for the opera night. "The dress is to die for but not really opera appropriate... If it would be floor length then yes. At least here in Europe one would usually not go to the opera in a cocktail dress. But it's really pretty, especially on her," one of her 13 million followers commented.
Another follower mommy shamed Teigen and advised her to cover up. "Once again a top that has to have her boobs hanging out. You're a mom now; you can still dress beautifully without showing everything to the world. You're not 20 anymore. Grow up and dress like a sophisticated women you're supposed to be."
The 31-year-old supermodel is having a la dolce vita with her family as she continues to share adorable images with her daughter and husband from her glamorous holiday.