Christian Catholic leader Kiko Arguello tells anti-gay marriage rally 'femicide is wives' fault'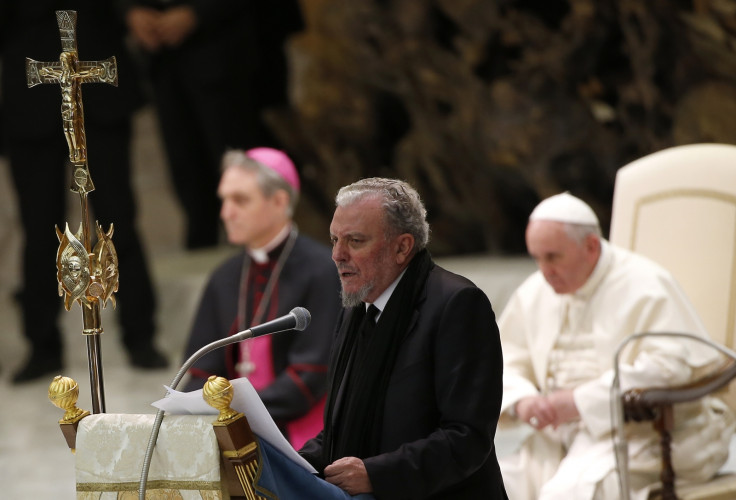 The leader of a Christian Catholic religious group has sparked outrage for telling an anti-gay marriage rally in Rome that wives are to blame if their husbands commit femicide or kill their children.
Kiko Arguello, a Spanish painter who founded a Vatican-approved evangelism organisation known as Neocatechumenal Way, told demonstrators in the central San Giovanni square that extreme domestic violence is caused by the lack of marital love.
In his shocking address, the 76-year-old also managed to link child murder to lesbianism and atheism, commenting on the recent case of a father who, after splitting from his wife, kidnapped his two children, allegedly killed them and then committed suicide.
Arguello started off by suggesting the man was not a regular at Sunday mass. Speaking in shaky Italian, he went on to say that, without religion, the abductor probably had no scope in life but his role as husband and the love of his spouse.
"But if the wife leaves him and goes with another woman, this man can discover something unimaginable... not being loved, and then it's hell," he told the crowd. "This man feels death so deeply inside him that his first impulse is to kill her.
"The second impulse, because the pain he feels is mystical, surreal and horrible, and throws him down into an eternal black hole, is to think: 'How can I make my wife understand the damage she has done to me, the suffering she has inflicted upon me?' He kills the children.
"We can't live if we are not loved," he concluded.
Arguello was speaking at the so-called Family Day rally, a protest against plans to introduce gay marriage in Italy. A video of his speech was posted online and soon went viral.
More than one million people, including about 100 lawmakers, attended the demonstration on 20 June, according to the organisers.
The Holy See did not directly take part in the event but endorsed it with a message from the president of its council for family matter, Archbishop Vincenzo Paglia, who was recently placed under investigation for embezzlement in relation to the purchase of an historic Italian castle.
Fabrizio Marrazzo, a spokesperson for lesbian, gay, bisexual and transgender rights group Gay Centre, described the protest as "a jump back in the stone age of civil rights".
© Copyright IBTimes 2023. All rights reserved.