A Christian man is on the run from Pakistani police following a charge for blasphemy when his Muslim friend accused him of insulting Islam in WhatsApp message. Pakistan has some of the strictest blasphemy laws in the world and anyone accused of insulting Islam can be sentenced to death.
It has been claimed that the message revealed derogatory words about the Prophet Muhammad and other Islamic holy figures.
Following the incident, local police official Mohammad Asim told the Associated Press that officers were guarding a local church to prevent any violence against the local Christian population, while security has also been increased in Christian neighbourhoods due to local tension concerning the complaint.
Police say Nadeem Masihm James, from the town of Sarai Alamgir, disappeared after the allegations were made, with contradicting reports suggesting that the man's relatives had been taken into "protective custody".
"Police have registered a case on blasphemy charges against Nadeem James and are searching for him as he has fled his home," a local law enforcement official told the AFP news agency.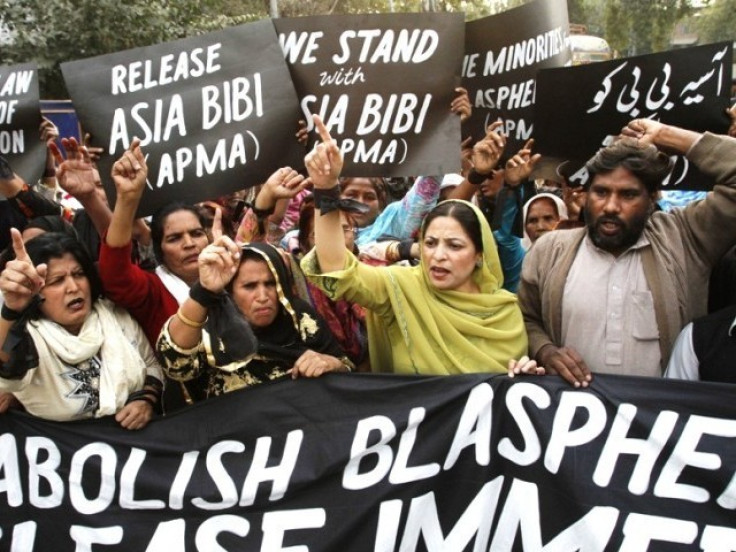 Pakistan, a Muslim-majority nation, has strict blasphemy laws based on Islam. Anyone found insulting or mocking Islamic principles or religious figures is given harsh punishment including the death penalty. Rights groups have been arguing against such draconian laws saying they are often used by political forces to settle scores against opponents and minorities in the country.
In June this year (2016), the Anti-Terrorism Court- based in the industrial city of Gujranwala in Pakistan's Punjab province -sentenced two Christians and a Muslim to death for blasphemy. Anjam Naz and Javed Naz, both Christians, and Jafar Ali were found guilty of insulting Prophet Muhammad. The three men are said to have made derogatory remarks against Muhammad in an audio recording.
In November 2014, a total of 44 people were arrested following a mob attack on a Christian couple who allegedly desecrated the Koran. The married man and woman were reportedly beaten and then burned alive in a kiln where they were working.